This week in food and travel: The bougiest restaurant at Disney World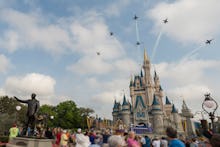 As you head into the weekend, kick back with stories from the world of food and travel. This week: Dog parents throw a "breed reveal" party, Antarctica plans its first Pride Month event and more.
If you thought a trip to Walt Disney World was a cute, all-America pastime, the mere existence of Markham's is enough to prove you wrong. In order to get in to the most expensive restaurant at the Orlando, Florida, parks, you'll first have to purchase a home in Golden Oak, a gated community four miles from the Magic Kingdom. Read more here.
The rainbow flag has officially been unfurled on the desolate landscape of Antarctica, in the name of celebrating pride. Antarctica was dubbed the first gay-friendly continent by humanitarian organization Planting Peace, and a group of McMurdo Station residents will hold the first official pride event on the ungoverned continent sometime this month. Read more here.
Italy is home to plenty of great food, so it's not entirely surprising that the most phenomenal pistachios on the planet come from Bronte, a Sicilian village. The nuts, which have been dubbed "green gold," get their flavor from soil that's incredibly mineral-rich from past volcanic eruptions. Read more here.
For pet parents who are mega-invested in their fur babies, a breed reveal party can be a fun way to celebrate what non-animal people might dub an unhealthy obsession. Read more here.