Jungle primaries, party in-fighting and #MeToo at the polls: What to watch for in Tuesday's voting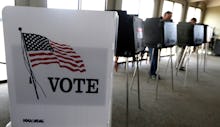 June 5 marks one of the biggest primary nights of the midterm elections, as voters in eight states — including the behemoth of California — head to the polls to select their nominees for November's contests.
California is where the vast majority of the action will happen, with Democrats hoping they don't get shut out by the state's wonky primary system. But there are also some races in Alabama, Iowa, Mississippi, Montana, New Jersey, New Mexico and South Dakota.
Here are the contests we're watching on Tuesday:
California
California's voting system could make Tuesday night pretty wild.
First, a word of caution: A large percentage of California voters cast ballots by mail. Since such mail-in ballots take longer to count, Tuesday could be a long, long night for spectators. If you live on the East Coast, it's very likely the results from the state won't be clear until the wee hours of Wednesday morning. It's also quite possible that in close contests, results won't be official for days.
Aside from how votes are counted, California's primary system also could cause some drama. The state has what's called a "jungle primary," which means that all candidates run on the same ballot, and the two that receive the highest vote totals advance to the general election — regardless of party identification. That means that two candidates from the same party could face off in a November general election.
There are, in fact, a handful of competitive seats where both Republicans and Democrats could be shut out of the November general election.
For Democrats, a surge of optimism led a slew of candidates to pile into primary contests in competitive districts. Those large fields of candidates threaten to splinter the vote so much that two Republicans could sneak through to take possible pick-up opportunities off the board.
Democratic groups have been running ad campaigns to prevent that scenario from happening. But there's still a possibility that the party will be shut out of races in the state's 39th, 48th and 49th districts.
Republicans are also at risk. A public poll from May in the state's 49th District — open thanks to GOP Rep. Darrell Issa's retirement — shows the top candidates all in the low teens, essentially meaning that anything could happen. The district voted for Hillary Clinton by an eight-point margin in 2016, making it a prime pick-up opportunity for Democrats.
California also has an open gubernatorial contest, which Lt. Gov. Gavin Newsom is expected to win.
Meanwhile, Democratic Sen. Dianne Feinstein, who is up for re-election this cycle, had a target on her back from some progressive groups in the state. But it's possible that her primary challenger, State Sen. Kevin de León, might not even make it through. He's currently locked in a competitive battle for second place with Republican candidates.
Iowa
The trend of women candidates winning Democratic primaries will be put to the test in the Hawkeye State, as two female candidates vie for the Democratic nomination in two competitive seats.
Iowa's 1st District was one of the few seats in the country that swung from voting for former President Barack Obama in 2012 to voting for Trump in 2016. Now, state Rep. Abby Finkenauer is the frontrunner in a crowded Democratic primary field.
At 28 years old, Finkenauer would be one of the youngest members of Congress if elected. She's looking to oust GOP Rep. Rod Blum in a race that's rated a "toss-up" by Inside Elections.
In Iowa's competitive 3rd District, Democrat Cindy Axne is trying to win the Democratic nomination against a field of male candidates. Axne has the endorsement of EMILY's List, which backs Democratic women who support abortion rights. Iowa's 3rd District is rated "likely Republican" by Inside Elections.
Mississippi
There are two Senate races in Mississippi this cycle. GOP Sen. Roger Wicker is up for re-election, and will likely sail through. However, the resignation of Republican Sen. Thad Cochran created a second Senate contest in the state — a special election that coincides with the state's general election.
The state's Republican governor appointed now-GOP Sen. Cindy Hyde Smith to the seat. She's running in the special election to serve out the remainder of Cochran's term.
Smith faces a primary from Chris McDaniel, a Tea Party Republican candidate who nearly won a GOP primary against Cochran back in 2014. McDaniel is considered a liability, reportedly having attended at least one pro-Confederate event and having made racist and misogynistic comments.
National Republicans worry that McDaniel is too far right, and could jeopardize this Senate seat, even in deep Red Mississippi. The Senate Leadership Fund — a GOP super PAC tied to Senate Majority Leader Mitch McConnell — is attacking McDaniel. Wicker even ran an attack ad against McDaniel back in March, when it was unclear who McDaniel would challenge in a primary.
South Dakota
GOP Rep. Kirsti Noem could be the latest member of Congress to lose a primary bid in a quest to seek higher office.
Four other Republican members of Congress have failed to win primaries for Senate and gubernatorial contests in their states. GOP Reps. Todd Rokita and Luke Messer lost to a businessman in the Indiana Senate Republican primary; Rep. Evan Jenkins lost a Republican primary in West Virginia; and Rep. Raúl Labrador lost a GOP primary for governor in Idaho.
A poll released May 30 found Noem is neck and neck with South Dakota Attorney General Marty Jackley. The race is getting ugly, with Noem running an attack ad against Jackley evoking the #MeToo movement. The ad features a woman who said she was sexually harassed, but had her claim dismissed by Jackley in his role as the state's top prosecutor.