Stories that pay off: How to save money this wedding season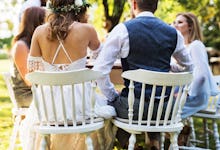 Wedding season has officially kicked off. Whether you're planning your own big day or are busy figuring out where to find a "farmhouse cocktail chic" dress for under $100, you'll probably be spending money celebrating a union in the near future. Weddings may have completely taken over your social calendar, but they don't have to wreak havoc on your bank account. Here's our guide to saving money on wedding expenses this year — without looking cheap.
The average wedding costs a little more than $35,000. If you're money-conscious, you can stick to your budget by agreeing to wedding priorities, being a crafty negotiator and getting a little creative. Don't forget about the honeymoon, where you can actually fund the trip using credit card points. Read more here.
Trip Huddle is meant to remedy the most painful aspects of group getaways — so planning your sister's bachelorette for 30 of her closest friends just got a lot easier. Read more here.
The average a guest will spend more than $100 on a wedding gift — but unsurprisingly, the costs add up if you're part of the wedding party, traveling for a destination wedding or throwing a shower. Here's how to keep wedding guest expenses in check. Read more here.
Repeat Roses helps couples protect the environment, support a local hospital and get a tax break in one fell swoop. Research has shown that patients with plants in their hospital rooms may recover more quickly — so you know your flowers are going to a great cause. Read more here.
Want more? For food inspiration, look to the dishes served at Prince Harry and Meghan Markle's recent royal wedding. Or seek out these award-winning wines — all under $10 — to serve at your reception. To maximize the value of your wedding registry, make sure you follow these tips — or you could just stick to our short list of kitchen essentials. Looking for honeymoon inspiration? Here's a list of the best places to travel in 2018.