What would the ideal ungendered fashion collection really look like?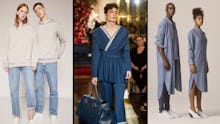 Editor's Note: What will the future hold for LGBTQ rights and representation? With this year's Beyond Pride series, Mic looks forward to seeing how the radical changes in recent years will continue to transform our culture in the worlds of politics, business, entertainment and more. You can receive all these stories in your inbox by signing up here.
Genderless fashion has proven to be a difficult concept for many brands and designers to grasp.
There was that notorious ungendered fashion collection from Zara in 2016 that got torn apart by the internet.
The models initially used were all thin and white, and the clothes were all oversized basics — including sweatshirts, T-shirts and sweaters, clothes that are often coded as menswear.
Nothing was revolutionary. Everyone of every gender already wears basics.
Then H&M hopped on board and released a unisex collection of its own, which felt like a step above Zara's attempt because it included a dress. In a climate where men wearing skirts is still revolutionary, this felt like we were getting closer to what an ungendered collection should really look like from a mainstream brand.
There have been high-fashion designers who have gotten this idea more clearly. There's Palomo Spain, for example, which is known for putting models of various genders in elaborate gowns and skirts.
And then there's Rio Uribe, the designer behind Gypsy Sport, who has also shown an array of fashion at his shows on models of various genders. "People ask me 'Is it men's or women's?' and I tell them, 'Whoever wants to wear it can wear it,'" Uribe told Mic. "It's that simple."
And yet for such a simple concept, more mainstream brands continue to trip up and struggle with the idea of how to design for people of any and every gender.
So what does a truly good ungendered fashion collection from a more accessible, mainstream brand look like? Is it basics with a bit of flair, like Fenty x Puma? Rihanna's brand had a show in 2016 filled with models dressing against gender norms, with male models wearing platform shoes and jewelry, including pearl necklaces.
Or is it men and women in ballgowns, alongside men and women in suits? What's the dream we're all hoping ungendered fashion will be? In honor of Pride Month, we decided to talk to designers and individuals passionate about this subject about what their ideal genderless fashion collection looks like.
What Jacob Tobia — a genderqueer writer, model, activist and all-around phenom — wants is more like Rihanna's vision and the antithesis of Zara's understated, minimal aesthetic.
"Three words: sequins, beads and shoulder pads," Tobia said in an email. "Who said that 'ungendered' clothing has to be boring or understated? I don't want to live in a dystopic future where there is no gender and everyone wears grey hoodies. I want to live in a euphoric future where there is so much gender and it's shimmering everywhere across all bodies and identities."
Uribe's dream ungendered collection is similarly creative, with designs that'd erase the idea that genderless means grey and shapeless and instead show that ungendered fashion is nothing new.
"My ideal genderfree collection would be a colorful parade of Djellabas," Uribe said in an email. "A traditional unisex garment that has been worn by men and women in Africa and Asia for centuries. I love how free and lightweight these tunics are, and they can easily be worn over jeans or dresses. Best of all, there are no gender roles imposed on these robes, so anyone can wear them."
For Becca McCharen-Tran, the founder of the mega-inclusive brand Chromat, it's all about freedom within the collection.
"I feel like most ungendered or unisex fashion is just big oversized shapeless clothes, really just putting everyone in menswear," McCharen-Tran said in an email. "My ideal fashion situation would be accepting everyone and allowing them to [wear] whatever they want regardless of their gender presentation!"
Fashion designed for everyone is the idea for Yajun Melody Lin, the designer of Yajun, as well. "I think ungendered fashion is designs without limits and borders," Lin said in an email. "I want each and every piece of my designs to fit everyone. No limits on sex or age or body types. The target consumer is everyone."
With body types in mind, Rob Smith, the founder of the Phluid Project, which is considered one of the first genderless stores in the world, wants size inclusivity a part of genderless collections.
"I imagine a cohesive collection that celebrates a silk kaftan one day, and a denim jumpsuit the next," Smith said in an email. "At the Phluid Project, we've especially realized the plus-size community is underrepresented, and we are doing our best to remedy this via expansion in sizing of select silhouettes. It is important to realize this disservice and remedy it. I personally want to see more free-flowing silhouettes which, via styling, can speak to a varied audience."
Universality is particularly important to Emily Bryngelson, the designer of the gender-fluid label Abraham, which is trying to redefine gender norms within fashion by offering customers a choice for how they want to define their own fashion.
"My ideal undgendered fashion collection is one that is truly fluid — not one that says 'women dressing like men' or 'men dressing like women' but people just dressing like themselves," Bryngelson said in an email. "It would have a range of styles on a spectrum from feminine to masculine and classic to forward. Allowing the customer to define it instead of it defining them."
The consensus, it seems, is that there needs to be a range of styles within these collections that are along the entire spectrum of menswear to womenswear to clothes that aren't coded in any particular way. With the fashion industry so divided and devoted to the binary, it'll be a hard thing to accomplish, but designers and passionate people do have the power here to let these brands know what they really want.