Today in Trump's America: Republicans slam Trump's trade war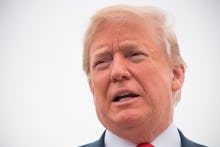 Welcome to Mic's daily read on Donald Trump's America. Want to receive this as a daily email in your inbox? Subscribe here.
Good morning from Emily Singer at Mic.
Here's what's happening in Trump's America:
• It's set to be another quiet day in Washington before Congress returns next week. President Trump's only public event is at the U.S. Coast Guard headquarters in Washington, where he'll participate in a change-of-command ceremony.
About last night: Trump's hypocritical response to vulgar comments from celebrities
Bear with me here, loyal NTA readers, for your author knows there are many more important things going on than what celebrities are tweeting and saying — it's just still dominating the news cycle this week.
And Trump has now waded further into the Roseanne Barr and Samantha Bee controversies.
On Friday morning, Trump questioned why Samantha Bee, a comedian with a show on TBS, wasn't fired for calling his daughter Ivanka a "feckless cunt." (Bee has since apologized.)
"Why aren't they firing no talent Samantha Bee for the horrible language used on her low ratings show? A total double standard but that's OK, we are Winning, and will be doing so for a long time to come!" Trump tweeted Friday morning.
This differs from his response to Barr's racist comment about former Obama administration official Valerie Jarrett. He never condemned Barr's comment comparing Jarrett, who is black, to an ape, and instead complained he never got an apology from the network that aired Barr's show for unnamed "horrible" comments made about him.
Nevertheless, a trip to the time machine shows Trump has embraced other celebrities who have used similarly vile language against Democrats.
Back in 1994, singer and hardcore gun rights advocate Ted Nugent called then-first lady Hillary Clinton a "toxic cunt," according to Media Matters for America. Nugent has said other racist, sexist and otherwise disgusting things since, yet Trump invited Nugent to the White House and took pictures with him in the Oval Office.
Not to mention, Trump himself has said derogatory things about women.
As the saying goes, people in glass houses shouldn't throw stones.
Today in Trump's America: Republicans criticize Trump's trade war with U.S. allies
Trump's decision to impose steel and aluminum tariffs on Canada, Mexico and the European Union is being widely panned by GOP lawmakers, many of whom have been otherwise remiss to criticize Trump in the past.
Canada, Mexico and many EU nations impacted by the tariffs are some of the United States' best and closest allies. Republicans are now frustrated that Trump would impose tariffs on those countries, and not China — whose trade policies he promised to crack down on during the 2016 campaign.
This week, Canada, Mexico and the EU have all announced plans for retaliatory tariffs, which could hurt American industries and consumers.
Sen. Orrin Hatch, the Utah Republican who was widely panned after saying Trump was a better president than Abraham Lincoln, came out against Trump's latest trade decision.
"Tariffs on steel and aluminum imports are a tax hike on Americans and will have damaging consequences for consumers, manufacturers and workers," Hatch said in a statement. "We should build on our success in overhauling the nation's tax code with complementary trade policies that, rather than favoring one narrow industry, make all sectors of the U.S. economy more competitive. In light of the mounting evidence that these tariffs will harm Americans, I will continue to push the administration to change course."
Rep. Kevin Brady (R-Texas), chairman of the powerful Committee on Ways and Means who has not been a Trump critic, also criticized the tariffs.
"These tariffs are hitting the wrong target. When it comes to unfairly traded steel and aluminum, Mexico, Canada and Europe are not the problem — China is," Brady told reporters Thursday. "I call on the administration to continue the exemptions and negotiations with these important national security partners."
Yet, while Republicans are speaking out against Trump's tariffs, Politico reported GOP leadership doesn't have plans to stop them from going into effect nor change the law to require the president to get congressional approval for trade decisions.
Capitol Hill happenings: Getting real about Democrats' midterm chances
There's been a lot of chatter recently about whether polling shows that Democrats' chances of a House majority are diminishing.
While it's true Trump's approval rating has seen a slight improvement in the first half of 2018, and that the generic congressional ballot has narrowed slightly, Democrats still have a very good shot at taking the House in the fall.
Keep in mind:
Inside Elections, a nonpartisan political handicapping outlet, says there are currently 78 competitive elections in November. Of those, 68 are currently held by Republicans. Democrats need to win 23 seats in order to win back the majority. This means Democrats have to flip roughly a third of the competitive seats to win a majority.
Axios also published a cool interactive graphic showing how much Democrats have overperformed in congressional special elections so far. Based on the results of those elections, Axios calculated what Democrats' chances would look like if they overperformed by those special election margins. They all suggest Democrats would win control of the House by varying margins if that same overperformance happened in November.
Of course, a lot can happen between now and November. But history is on the Democrats' side: The party that controls the White House historically loses seats in midterm elections.
And the rest…
Pardon me?: Trump said he will pardon Dinesh D'Souza, a conservative filmmaker known for his propaganda films and racist outbursts. D'Souza pleaded guilty in 2014 to campaign finance fraud after he carried out a straw donor scheme to avoid contribution limits. Trump is also mulling pardoning Martha Stewart and Rod Blagojevich, he said on Twitter. Stewart went to prison for obstructing justice and lying to investigators and has been free for years. Blagojevich is still serving prison time after he was convicted of a scheme to sell now-former President Barack Obama's former Illinois Senate seat. Both appeared on Trump's reality game show The Apprentice.
The spy who praised me: The White House once used quotes from Stefan Halper, the FBI informant Trump and his defenders have branded a spy who tried to infiltrate the Trump presidential campaign, in an email touting Trump's agenda, Politico reported. In an email from Aug. 14, the White House highlighted a quote in which Halper praised the Trump administration for fighting intellectual property theft by the Chinese.
Cohen the tough guy: Tim Mak, an NPR reporter, released audio recordings of Trump's personal lawyer Michael Cohen threatening him back in 2015. "I'm warning you, tread very fucking lightly because what I'm going to do to you is going to be fucking disgusting. Do you understand me? Don't think you can hide behind your pen because it's not going to happen," Cohen told Mak, who at the time was working as a reporter for the Daily Beast. Mak released the audio after Michael Avenatti, the lawyer for porn actress Stormy Daniels, said Cohen coerced Daniels into signing a $130,000 hush money agreement.