Who's Sorry This Week? Roseanne Barr, Samantha Bee, Southwest Airlines and other public apologies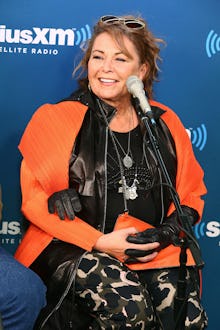 Another week, another deluge of apologies.
In Who's Sorry This Week?, Mic tracks down the most prominent mea culpas from celebrities, companies and other public entities trying to make amends for their various screw-ups.
This week had no shortage of apologies, so let's get right to it.
Roseanne Barr is sorry for comparing ex-Obama aide Valerie Jarrett to an ape
Roseanne Barr, star of ABC's Roseanne revival, tweeted a racist remark Tuesday about Valerie Jarrett, who served as a senior adviser to former President Barack Obama. In her tweet, Barr described Jarrett, who is black, as though the "Muslim Brotherhood & Planet of the Apes had a baby."
Though Barr has a history of tweeting inflammatory, racist things, this particular comment drew more attention than usual. Barr later deleted the tweet and tweeted an apology.
"I apologize," she wrote. "I am now leaving Twitter."
She quickly added: "I apologize to Valerie Jarrett and to all Americans. I am truly sorry for making a bad joke about her politics and her looks. I should have known better. Forgive me — my joke was in bad taste."
But the damage was done. Wanda Sykes, who served as a consulting producer on the Roseanne reboot's first season, said she would not be returning to the show. As it turns out, though, nobody would be coming back: A short time after Sykes' tweet, ABC president Channing Dungey announced Roseanne had been canceled altogether.
"Roseanne's Twitter statement is abhorrent, repugnant and inconsistent with our values, and we have decided to cancel her show," Dungey said in a statement.
Despite tweeting an apology and saying she was "leaving Twitter," Barr continued to retweet people who were defending her. Barr also claimed she wasn't aware Jarrett is black and blamed her use of the sleeping pill Ambien as a catalyst for her initial tweet, according to CNN.
"guys I did something unforgiveable so do not defend me," Barr later tweeted. "It was 2 in the morning and I was ambien tweeting — it was memorial day too — i went 2 far & do not want it defended — it was egregious Indefensible. I made a mistake I wish I hadn't but...don't defend it please. ty"
In response, Ambien manufacturer Sanofi said racism is "not a known side effect" of Ambien or its other medications.
Samantha Bee is sorry for calling Ivanka Trump "a feckless cunt" on her TBS show Full Frontal
During her TBS show Full Frontal on Wednesday, comedian Samantha Bee took aim at the Trump administration's role in undocumented immigrants being separated from their children at the border, which has ultimately resulted in 1,500 of those children being "lost." At one point, Bee criticized President Donald Trump's daughter, Ivanka Trump, for being tone-deaf in tweeting a picture of herself with her own daughter.
"Let me just say, one mother to another: Do something about your dad's immigration policies, you feckless cunt," Bee said. "He listens to you. Put on something tight and low-cut and tell your father to fucking stop it. Tell him it was an Obama thing and see how it goes."
Bee's remark drew the ire of critics like former Fox host Megyn Kelly, who said Bee's word choice was "disgusting." Kelly went on to compare Bee's criticism of Ivanka Trump's complicity in her father's immigration policies to Barr's overtly racist tweet, saying, "Hate is hate." In the face of mounting criticism — including from White House press secretary Sarah Huckabee Sanders, who said Bee's remark was "vile and vicious" — State Farm and Autotrader pulled advertising from Full Frontal.
Bee apologized on Twitter the following day.
"I would like to sincerely apologize to Ivanka Trump and to my viewers for using an expletive on my show to describe her last night," Bee said. "It was inappropriate and inexcusable. I crossed a line, and I deeply regret it."
Donald Trump on Friday called on TBS to fire Bee, alleging there was a "double standard" at play, likely in reference to Roseanne's cancellation.
"Why aren't they firing no talent Samantha Bee for the horrible language used on her low ratings show?" Trump tweeted. "A total double standard but that's OK, we are Winning and will be doing so for a long time to come!"
Bachelorette contestant Garrett Yrigoyen is sorry for liking Instagram posts mocking trans people, women, undocumented immigrants and more
Garrett Yrigoyen is one of 28 contestants vying for the heart of Becca Kufrin on the newest season of The Bachelorette. The 29-year-old Yrigoyen appeared to be an early frontrunner on Monday night's season premiere, according to HuffPost.
That stands in stark contrast to how things are going for Yrigoyen IRL: Currently, the medical sales representative is under fire for a history of liking bigoted Instagram posts from a now-deleted account. Some screenshots of Yrigoyen's likes were posted by the now-privately listed Instagram account @imwatchingyuuo, but they've since been reposted to Twitter by former Bachelor contestant Ashley Spivey, HuffPost reported.
The posts Yrigoyen favorited include one mocking young boys for experimenting with makeup, implying it's inferior to what boys did "back in the day," like playing with toy guns. Another post circulated a widely debunked claim that Parkland shooting survivor David Hogg was a "crisis actor." Yet another showed two public bathroom doors: On the women's door was a recent image of Caitlyn Jenner, while the men's door depicted an older picture of Jenner, before she was out as transgender.
In a number of screenshots posted to his new Instagram account, Yrigoyen admitted Thursday to liking those posts and apologized to people he has "hurt and offended," according to the Los Angeles Times.
"This is all new to me," he said from his new Instagram account. "I went on the Bachelorette for the adventure and possibility of falling in love, not fame. I did not know what to expect once the show aired.
"I am sorry to those who I offended, and I also take full responsibility for my 'likes' on Instagram that were hurtful and offensive," Yrigoyen continued. "garrett_yrigs12 was my former Instagram handle, and I decided to take it down and start fresh because I have learned an extremely valuable lesson and am taking steps to grow, become more educated and be a better version of myself."
Yrigoyen said his Instagram likes were not indicative of his morals and that he is "not the negative labels people are associating [him] with."
"I do not want my social media to define who I am, and I will take better care moving forward to support all walks of life," Yrigoyen added. "Again, I sincerely apologize and am sorry for any hurt, damage or offense I may have caused."
Southwest Airlines is sorry for asking a white woman to "prove" her mixed-race son was actually hers
Lindsay Gottlieb, who coaches the women's basketball team at the University of California, Berkley, said a Southwest Airlines employee at a Denver airport asked her to "prove" her 1-year-old son Jordan was actually hers, according to CBS affiliate KPIX 5.
"@SouthwestAir I'm appalled that after approx 50 times flying with my 1-year-old son, ticket counter personnel told me I had to 'prove' that he was my son, despite having his passport," Gottlieb tweeted Monday. "She said because we have different last name. My guess is because he has a different skin color."
In another tweet, Gottlieb — whose husband is black and whose son is biracial — said the Southwest Airlines employee claimed she was simply adhering to "federal law" by asking for proof.
"she 1st asked for proof with birth certificate," Gottlieb added. "She then said it's a 'federal law' (not true) but asked me to prove I'm mother with Facebook post. What?? Mother next to me said she's never been asked for proof despite diff last name..not shockingly, not [mixed-race] fam."
Southwest issued a statement apologizing to Gottlieb for the interaction, saying it would be used as a "coaching opportunity" for the employee in question.
"We have reached out to Ms. Gottlieb directly to address her concerns and will utilize the situation as a coaching opportunity for our employee," Southwest said, per Business Insider. "We apologize if our interaction made this family uncomfortable — that is never our intention."