While You Weren't Looking: 5 stories from the Trump administration that aren't about Roseanne Barr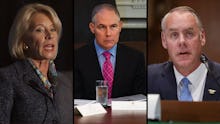 This week saw yet another news cycle focused on sideshow, Trump-era antics, both inside and outside the White House.
As the nation focused its attention on the controversy surrounding racist comments made by TV star Roseanne Barr, major media outlets barely had any time to talk about the devastating report detailing the thousands of people killed in Hurricane Maria, much less time to focus on the many ongoing policy decisions and scandals happening across various federal agencies.
Here are five major stories from the Trump administration you may have missed this week.
Trump may force energy grid operators to buy more coal and nuclear power
In a move that should come as a thumb in the eye to free-market conservatives, the Trump administration is mulling a proposal that would mandate energy grids across the country buy more coal and nuclear power.
A new draft proposal from the Energy Department cites "national security," as a justification for ordering power grid operators to purchase their power from the two struggling energy industries.
The proposal is currently being reviewed by the National Security Council.
Despite Trump's campaign pledge to save America's coal industry, U.S. coal capacity has continued to decline throughout his time in office due to competition from cheaper forms of energy, like natural gas.
Now the president appears poised to defy the market's demand for less coal and his party's commitment to free market principles, by leaning on American energy grids to help keep the industry alive.
Yet another Trump administration flight scandal emerges
Energy Secretary Rick Perry is the latest in a long line of Trump administration officials who have been accused of spending an exorbitant amount of taxpayer money on personal travel.
A new report found that in Perry's first seven months in office in 2017, his staff added at least $51,000 to its travel bill by upgrading Perry from coach to business- or first-class seats.
Federal law mandates that officials must take the cheapest available seat on a flight except for when there are "exceptional security circumstances."
The excess expenses were reportedly signed off on for "security" reasons.
In February, EPA administrator Scott Pruitt came under fire for similar flight upgrades. Pruitt also cited security as his reason for flying first class, arguing that the people in coach shouted negative comments at him about his stewardship of the environment.
Scott Pruitt spent $1,560 in taxpayer money on exactly 12 fountain pens
Environmental Protection Agency administrator Scott Pruitt reportedly bought 12 custom fountain pens at the price of $130 each, using taxpayer money.
The pens feature the official EPA seal along with Pruitt's signature, according to the Washington Post, who first reported the story.
Pruitt purchased the pens from a premiere Washington D.C. jeweler known as the Tiny Jewel Box. The expenditure was first discovered via a FOIA request that was filed as part of a lawsuit from the environmental group the Sierra Club.
Pruitt has faced intense scrutiny over the past several months for his lavish spending of taxpayer money.
Betsy DeVos's school safety commission isn't rushing to do anything about gun violence
Education Secretary Betsy DeVos's school safety commission, which was created after the mass shooting at the February mass shooting Marjory Stoneman Douglas High School in Parkland, Florida, kicked off its first in a series of school visits this week.
The trip was organized to observe a Maryland school that specializes in a teaching model that boosts positive behavior, drawing criticism that DeVos continues to avoid addressing school safety in the wake of the growing number of mass shootings.
"We're concerned the secretary is just getting up to speed while the rest of the education community feels the urgency to act to implement practices we already know work," JoAnn Bartoletti, executive director of the National Association of Secondary School Principals told the Wall Street Journal.
DeVos's plans and recommendations also appear to be focused narrowly on suggestions for state and local government policies and has avoided suggesting any sort of national legislative solutions to gun violence.
Zinke defends racist comment by saying he has Japanese friends
In March, Interior Secretary Ryan Zinke stirred up controversy when he greeted Japanese-American Rep. Colleen Hanabusa at a congressional hearing with the phrase "konichiwa."
Now Zinke is defending that comment.
In an interview with Breitbart radio Zinke made it a point to note that he had "friends that were Japanese," and that he did not think it was offensive to address someone in the language of their heritage.
"I don't think it's any different than greeting anybody else in a language that's respectful," he said. "I grew up in Montana saying 'good morning,' saying 'good afternoon.' I think it's an appropriate salute."
Hanabusa released a statement following the interview.
"Secretary Ryan Zinke continues to miss the point. This is racial stereotyping," the statement read in part. "Does he greet other members of Congress in their ancestral language?"