The bizarre experience of dining at an illegal North Korean restaurant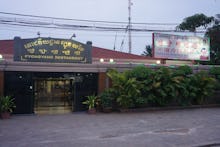 The 500-seat restaurant looks more like the location of a wedding reception than an eating establishment. It's virtually empty outside of the dozen or so waitresses donning tight ponytails and blue blazers with skirts that wouldn't be out of place on an Air Koryo flight.
The venue is brightly lit with fluorescent lights and the plain, beige decor barely merits the "no photography" sign, though photos can certainly be taken discreetly. No men work at the restaurant — or at least, none that can be seen. And there are almost no words spoken throughout the dining area. The room is empty save for a few tables with tourists dining on platters of fish, cold noodles and kimchi. The wooden barricades make interactions with other tables nearly impossible. Based on the restaurant's advertisements, this is what dining in North Korea is like. The entire business — its mere existence — is against international law.
On a recent trip to Siem Reap, I decided this was a phenomenon I had to see for myself. In Cambodia, Siem Reap's Pyongyang Restaurant is just one of a chain of 130 North Korean restaurants across 12 countries, and it operates in violation of recently passed UN laws, which prohibits the "operation of all joint ventures or cooperative entities, new and existing, with [Democratic People's Republic of Korea] entities or individuals, whether or not acting for or on behalf of the government of the DPRK." The new sanctions adopted by the UN Security Council in response to North Korea's nuclear weapon testing required the closure of all such establishments by Jan. 9. But Cambodia supposedly permits the restaurants as a way to "retain a quiet, vestigial friendship" with the hermit kingdom, Sebastian Strangio, author of Hun Sen's Cambodia, said in an interview with Channel News Asia.
The restaurants, staffed with North Korean workers and selling products like Kanggye brandy, are part of a network of businesses that are not only well-known for their traditional fare but also for allegedly laundering money and relaying intelligence back to the Kim Jong Un regime. One report by Chosun, a South Korean newspaper, estimates each restaurant funnels somewhere between $100,000 to $300,000 in cash back to North Korea each year. South Koreans make up the largest demographic of spenders at the restaurant in Siem Reap, an odd way to experience North Korean life while simultaneously supporting its existence.
Inside, the cash-only menu has all prices in U.S. dollars and features pork chops for $30, beef ribs for $25 and kimchi, typically free at most Korean restaurants, for $3. If you plan on drinking, a bottle of liquor (the only serving size available) starts at $100. For reference, other decent dinners I had in Siem Reap cost around $5 to $8 for food and 50 cents for a beer. The Pyongyang cold noodle soup, North Korea's staple dish, is $7 and consists of buckwheat noodles served in a cold beef broth and topped with beef, kimchi, egg and pickles.
When the cold noodles arrived, the waitress methodically prepared the soup, first mixing the beef, kimchi, egg, and pickles, and then, with scissors, she cut the noodles. From there, she individually plated the noodles, followed by kimchi, meat, egg and then poured in the broth. The entire experience seemed regimented. She kept a rigid posture, and stood beside our table for the duration of the meal, never once leaving to check another customer or mingle with a coworker. After every spoonful of soup, she topped off each bowl. After every sip of the expensive $5 Angkor Beer, she topped off the glass. When asked about where she's from and how she enjoys life in Siem Reap, she simply smiled. When asked about how many customers the restaurant usually entertains, she, once again, wordlessly smiled.
Not much is known about the lives of the workers. The waitresses spoke little to no English and are rumored to have virtually no contact with the world outside of the restaurant — they're reportedly monitored by security officials and discouraged from meeting with non-North Koreans. It's also alleged that many of the servers hail from the upper echelon of Pyongyang society, making them less likely to flee the regime. Of course, this is not always the case. As recently as last year, 12 waitresses disappeared from a restaurant in Ningbo, China, and ended up in South Korea. Whether it was an escape or an abduction made by South Korean spies remains to be fully known, but the lives of these servers are under constant watch.
Aside from serving food, the waitresses provided entertainment as well. The experience started at 6:30 p.m., when the waitresses changed into tap shoes and glittery green and white dresses. They took the stage to sing, dance, play guitar and accordion to a spectacle of lights. It's flashy, slightly gaudy and entirely beautiful. For the final act, one of the elegantly dressed servers stood beside the microphone and crooned a rendition of "O sole mio." Mesmerized by her voice, the handful of spectators stood up and applauded, almost accidentally celebrating this North Korean facade.
It's undeniable that ethically speaking, dining at a restaurant that supports the North Korean government is a struggle. At the same time, it was a once-in-a-lifetime type of experience to interact with North Korean culture and an invaluable chance to understand how North Koreans see their country and their people, from a government-controlled perspective. My dining companion and I were uneasy throughout the meal, though one could argue this uneasiness only existed based on our preconceived notions of North Korea. Our service was friendly, full of smiles and almost uncomfortably accommodating. But in order to experience the oddity, we bought their signature dish and tried not to spend too much money there — the bill could have easily exceeded $50 based on the prices for the entrees.
As we got up and shuffled out of the restaurant, our waitress followed us from the table to the door. She held it open and didn't take a step outside. Meanwhile, a bus full of South Koreans had unloaded and were heading in, ready to get a glimpse of North Korean culture for themselves.