Advocacy groups sue Department of Defense over policies toward HIV-positive service members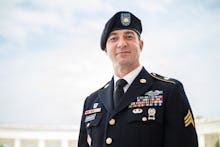 The United States military may soon be forced to change their decades-old policies that bar HIV-positive members from certain roles and, thanks to a new policy enacted by the Trump administration, makes it essentially impossible for them to serve altogether.
Lambda Legal and OutServe-SLDN (formerly the Service Members Legal Defense Network) have filed two lawsuits against Defense Secretary James Mattis and the Department of Defense over the military's treatment of its members who are HIV positive.
Since 1991, the military has implemented specific policies affecting how and where members who are HIV-positive may serve, even as medical science has advanced and the condition is now manageable with effective treatment.
"If you're not in the military and you have HIV, you can't join, whether it's by enlisting, commissioning or moving from enlisted to officer," OutServe legal director Peter Perkowski said in an interview. "If you're in the military and acquire HIV, you're allowed to stay, in most cases, [as long as] you maintain good health, but there are restrictions on your duty assignments, on deployments, and ... there's restrictions on your ability to be promoted."
The two suits, filed Wednesday in federal court in Washington, D.C., take on these policies, which the plaintiffs allege constitute discrimination. The first, filed on behalf of Nick Harrison and OutServe's broader membership of HIV-positive service members, concerns the specific plight of Harrison, a 41-year-old who has served in the military for 18 years. Harrison was deployed to Afghanistan and Kuwait, and earned a law degree with financial support from the military.
After being diagnosed with HIV in 2012, however, Harrison was unable to commission to an officer position in the Judge Advocate General's office in the Washington, D.C., National Guard due to his HIV status, after initially being accepted to the position in 2013, according to the suit. Harrison currently serves in the Washington, D.C., National Guard, though not in an officer position.
"Going from infantry to the court room seems like something fundamentally the army would support, especially since they helped pay for my college education and my grad school education," Harrison told Mic. "I'm not sure exactly what the rationale was for turning down the request for exemption of policy, but it kind of pushed me in the direction of seeing the overall policy as something that has to be revamped."
The second lawsuit concerns an anonymous member of the U.S. Air Force, given the pseudonym of John Voe, who was diagnosed with HIV while enrolled at the U.S. Air Force Academy. Though he was otherwise found to be medically fit for service, Voe was denied a commission upon graduating from the academy and was honorably discharged from the military altogether.
Scott Schoettes, counsel and HIV project director at Lambda Legal, noted that though the lawsuits have been in the works for some time, they were given "extra impetus" in February, when the Trump administration restricted HIV-positive service members even further through a new "deploy or get out" policy. Under the new policy, members of the military who are classified as "nondeployable" — as those living with HIV are — are separated from the military after 12 months, which essentially prevents any service member from HIV from remaining in the military. The plaintiffs are seeking a temporary injunction to halt the policies and keep HIV-positive service members in the military as the case is being litigated.
The groups argue that the Department of Defense violated the Fifth Amendment and the Constitution's equal protection guarantees by discriminating against the two plaintiffs because of their HIV status. The organizations' legal counsel told Mic that to legally justify their differential treatment, the government would have to put forth "compelling justification" for the discrimination — something that will be difficult, because, unlike when the policy was first established, HIV is now medically treatable.
"The government has to be able to show, when it has targeted a group for differential treatment, it has to be able to justify that treatment," Schoettes said in an interview. "This particular distinction is not even related to a legitimate government interest, so we feel confident that the equal protection guarantees of the Constitution will force the military to amend these policies."
The Department of Defense has not yet responded to a request for comment as of this writing.
Harrison argued that the military's allegedly discriminatory policy toward HIV-positive service members is "really fundamentally opposed to the overall philosophy" of the U.S. Army and the military in general, going against the idea that its members are all on "one team" without regard for their differences.
"Dating back to World War II, [the military has] always been an organization that's fundamentally been about the differences and the diversity in the U.S. population of the American people," Harrison said. "During World War II, we desegregated before a lot of places in the U.S. did that, and so it seems to be a fundamental part of our history and our culture."
"It's something they always teach us when we go through the training, the U.S. is sort of this 'one team.'" Harrison said. "But this particular policy is just inconsistent with that, and that's one of the fundamental reasons it has to change."
The lawsuits come as LGBTQ and HIV-positive service members and other Americans have faced attacks by the Trump administration, from Trump's proposed ban on transgender Americans serving in the military to policies and actions that Schoettes noted stand to affect HIV-positive Americans, such as efforts to dismantle the Affordable Care Act.
In taking on these cases, the advocacy groups and Harrison hope that the two plaintiffs' service positions will be restored and these discriminatory policies can ultimately be struck down for the benefit of all service members living with HIV.
Even more broadly, however, Schoettes said he hopes the lawsuit will "completely change people's perceptions of people living with HIV," citing the ongoing "misconceptions" about what it means to live with the disease. Though initially treated as a "death sentence" when the disease first spread widely in the 1980s, HIV is now a manageable condition when effectively treated. The Harrison lawsuit notes that those who are being effectively treated are "incapable of transmitting HIV," and a 25-year-old with HIV who is diagnosed quickly and receives appropriate treatment has an anticipated life span within four to six months of a 25-year-old without the disease.
"Living with HIV, really, there are no duty restrictions, there are no implications," Harrison said. "It's a manageable condition, and people [who] are diagnosed and go on treatment these days have no ill health effects. They can live as long as everybody else. It's really not something that affects day-to-day life. It's a manageable condition these days, and I think that's really important for people who are diagnosed with it and people who interact with these people to realize, is that it's not a big deal anymore."
Restrictions against HIV-positive employees have been struck down in most workplaces, as discriminating against someone with HIV is in violation of the Americans with Disabilities Act. By taking on discrimination in the U.S. military — the world's largest employer — the organizations hope that HIV discrimination in the workplace can finally come to an end.
"I think it is a game-shifting lawsuit that is designed to really bring along the very last vestige of employers in this country, and the largest employer in the world, on this subject, where other employers and other parts of the economy have already been brought forward through the ADA and other enforcement measures," Schoettes said.