Spotify abandons its hateful conduct policy after pushback from music industry reps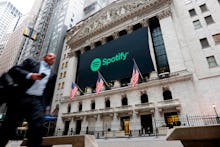 Spotify is rolling back its policy around artist conduct after pushback from music industry representatives, the music streaming service announced in a blog post Friday afternoon.
"While we believe our intentions were good, the language was too vague, we created confusion and concern, and didn't spend enough time getting input from our own team and key partners before sharing new guidelines," the statement reads.
The update comes less than a month after the popular streaming platform stopped promoting controversial artists such as R&B singer Kelly and rapper XXXTentacion in its curated playlists. XXXTentacion is being added back to promoted playlists, but there are no plans to start promoting Kelly again, Bloomberg reported May 24.
After Spotify announced its policy May 10, representatives for several artists, including Kendrick Lamar, expressed their concerns to Spotify CEO Daniel Ek and head of artist relations Troy Carter, Bloomberg reported. They also said they would pull their music if the policy was not changed.
"We created concern that an allegation might affect artists' chances of landing on a Spotify playlist and negatively impact their future," Spotify said in the statement. "Some artists even worried that mistakes made in their youth would be used against them."
Anthony "Top Dawg" Tiffith, the CEO of Top Dawg Entertainment, the label to which Kendrick Lamar and SZA are signed, had threatened to remove music from the platform, he told Billboard in an interview published Friday.
"I reached out to Troy over there, we had a conversation and I expressed how I felt about it, about censorship, how you can't do artists that way," Tiffith said. "I don't think it's right for artists to be censored, especially in our culture. How did they just pick those [artists] out? How come they didn't pick out any others from any other genres or any other different cultures? There [are] so many other artists that have different things going on, and they could've picked anybody. But it seems to me that they're constantly picking on hip-hop culture."
Spotify also reiterated Friday that its hate conduct and content policy was composed of two parts. The first, hate conduct, was intended to address its "promotional decisions in the rare cases of the most extreme artist controversies," the statement reads. The second part of the policy looks at hate content, which Spotify will continue removing from its platform.
"Spotify does not permit content whose principal purpose is to incite hatred or violence against people because of their race, religion, disability, gender identity, or sexual orientation," the statement reads. "We're not talking about offensive, explicit, or vulgar content – we're talking about hate speech."
Spotify users can report content they believe violates this policy via an online form.
Spotify wasn't alone in responding to a call from #TimesUp and #MuteRKelly activists to end promotion of Kelly's music. Other popular streaming platforms — such as Apple Music and Pandora — also stopped publicizing the singer's music on their platforms.