Trump's summit with North Korea's Kim Jong Un is now back on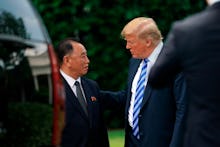 The June 12 summit between President Donald Trump and North Korea's Kim Jong Un is back on, Trump announced Friday afternoon.
Trump's announcement comes after he met in the Oval Office with Kim Yong Chol, a high-ranking North Korean official who is close with the country's leader. Kim Yong Chol gave Trump a letter from Kim Jong Un, which Trump described as "very nice."
The decision to hold the diplomatic meeting in Singapore comes roughly a week after Trump called the summit off in a threatening letter.
"Based on the tremendous anger and open hostility displayed in your most recent statement, I feel it is inappropriate, at this time, to have this long-planned meeting," Trump wrote in a letter to Kim Jong Un on May 24. "Therefore, please let this letter serve to represent that the Singapore summit, for the good of both parties, but to the detriment of the world, will not take place."
The decision to have the meeting puts a number of Republican lawmakers in an awkward position, as many praised Trump for canceling the talks.
"Kim Jun Un, in the words of a wise man 'Congratulations, you just played yourself,'" Sen. Marco Rubio (R-Fla.) tweeted after Trump announced the cancellation of the meeting. "Withdrawing from talks with #NKorea is 100% the right decision. #KJU doesn't want a deal. He has deliberately sabotaged the talks over the last two weeks & was setting us up to take the blame."
Senate Majority Leader Mitch McConnell also said Trump "did the right thing" when he cancelled the summit.
Now that the summit is back on, Trump faces pressure to ensure that it goes off without a hitch. The ultimate goal is to convince North Korea to denuclearize.