Trump's new Twitter strategy is to quote other people spouting his talking points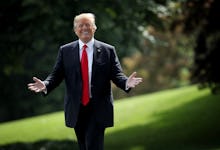 President Donald Trump kicked off his Saturday, as he often does, by watching a little Fox & Friends and tweeting about it — this time quoting NRATV host Dan Bongino describing the Russia investigation as a "scam."
"Americans are being worked," Bongino said, according to Trump. "We now know there was Russian collusion, with the Russians and the Democrats. The Mueller team is stacked with anti-Trumpers, who actually represented Clinton people."
The Saturday morning tweets appeared to be part of a new Twitter strategy for Trump: spouting his usual talking points, often related to Robert Mueller's Russia probe, but doing so by quoting others.
In recent days, he's quoted Rush Limbaugh to — again, falsely — suggest that the FBI didn't warn Trump about Russian interference during the 2016 campaign; former United States attorney Joe diGenova, whom he nearly hired for his legal team, to deliver another broadside against attorney general Jeff Sessions; and Fox News pundit Mollie Hemingway to buttress his dubious "Spygate" claims.
The possible strategy seems to have arrived in recent days as Rudy Giuliani — the public face of Trump's legal team — has openly attempted to defeat Mueller in the court of public opinion.
"Our jury is the American people," Giuliani told Business Insider on Thursday. "If they decide that the president is being badly treated, there's no way any Congress will impeach him."
Trump lately has seemingly made a push to build his case by using others to lend credence to his unsupported conspiracy theories and to back his attacks on federal law enforcement officials.
On Saturday, he used Bongino — a former Secret Service agent — to go after the Russia probe and former CIA director John Brennan, who blasted the president on Friday in a scathing Washington Post op-ed.
"I have never been and will never be a partisan," Brennan wrote. "I speak out for the simple reason that Mr. Trump is failing to live up to the standards that we should all expect of a president."
"John Brennan, no single figure in American history has done more to discredit the intelligence community than this liar," Bongino said on Fox & Friends, to Trump's apparent delight. "Not only is he a liar, he's a liar about being a liar."
Brennan, a vocal Trump critic, had railed against the president Friday for "lying routinely to the American people without compunction, intentionally fueling divisions in our country and actively working to degrade the imperfect but critical institutions that serve us."
He blasted Trump's temperament; his use of "his 1600 Pennsylvania Ave. address and his Twitter handle to burnish his brand and misrepresent reality;" and his attacks on the Mueller probe.
"His disparagement of institutions is designed to short-circuit legitimate law enforcement investigations, intelligence assessments and media challenges that threaten his interests," Brennan wrote. "His fear of the special counsel's work is especially palpable, as is his growing interest in destroying its mandate."
Trump and his allies have spent months warring against the special counsel, who is leading the FBI's inquiry into possible collusion between the Trump campaign and Russia, as well as potential obstruction of justice on the part of the president.
Trump's use of other voices to bolster his attacks on the probe echoes the signature strategy he's used for years to promulgate conspiracy theories and other baseless insinuations — by prefacing his claims with phrases like "a lot of people are saying..."
Trump hasn't just used his latest apparent Twitter strategy to attack.
Trump also used the strategy Saturday to give himself a public pat on the back, quoting the headline to a Neil Irwin piece in the New York Times on the strong new jobs numbers Friday.
The U.S. added 223,000 jobs last month, the Department of Labor announced Friday, bringing unemployment down to 3.8% — its lowest level in nearly two decades.