Steve Bannon seems to be staging a comeback with the media — and Trump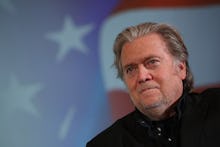 Former White House chief strategist Steve Bannon on Friday predicted that President Donald Trump would shut down the government if he didn't get funding for his controversial border wall, telling CNN the wall is "absolutely central to his program."
"I believe the government will actually shut down in the run-up to the election," Bannon said in an interview with Fareed Zakaria Friday. "I believe that what he's going to do is, as we come up on Sept. 30, if that appropriations bill does not include spending to fully build his wall — not some $1.6 billion for prototypes, I mean to build the southern wall — I believe he will shut down the government."
The comments come as the perpetually scruffy alt-right strategist — once one of the most influential members of the president's inner circle — apparently seeks to stage a comeback after being exiled from Trumpland earlier this year over comments he made to journalist Michael Wolff.
In February, he told GQ about his plans to launch a group "sometime this spring or this summer" that will focus on, as he put it, the "weaponizing of ideas" to counter mainstream media outlets like the New York Times. In May, the Wall Street Journal reported that Trump has been seeking Bannon's advice once again. And in his 40-minute sit-down with Zakaria on Friday, Bannon acted as a kind of Trump surrogate, sounding off on everything from the midterm elections to his vision of "economic nationalism" to how he thinks Trump should handle Rod Rosenstein — the deputy attorney general whose job security has been a frequent matter of speculation amid the president's ongoing frustrations with the Russia probe.
Bannon told CNN that he believes Trump should fire Rosenstein, who has overseen the FBI investigation into the Trump campaign since attorney general Jeff Sessions recused himself in early 2017, if he does not turn over documents related to the bureau's use of an informant in the early days of the Russia inquiry.
Trump has accused federal law enforcement of "spying" on his campaign for former President Barack Obama and the Democrats.
"You turn over every document, and if he doesn't turn it over, you give him 24 hours. If he doesn't turn it over, I would fire him, and that's not obstruction of justice," Bannon told Zakaria on Friday. "That's giving a law enforcement officer a direct order to turn over documents to Capitol Hill, and if he doesn't do it, I would fire him."
Trump has repeatedly attempted to use his "Spygate" conspiracy theory to undercut the special counsel's probe, but even Republicans — including Rep. Trey Gowdy (R-S.C.) — have said that there's no evidence the FBI did anything inappropriate.
Still, Bannon and others close to Trump have attempted to lend legitimacy to the president's unverified claims, with White House press secretary Sarah Huckabee Sanders saying Wednesday that "there's still cause for concern that needs to be looked at" regarding his baseless spying allegations.
Bannon on Friday also echoed Trump's criticisms of former U.S. intelligence officials James Clapper and John Brennan, terming the two vocal critics of the president as "just bitter old men."
Trump has been feuding with Clapper for days since the former national intelligence director first pushed back on his Spygate claims, and the president on Twitter Saturday quoted a conservative pundit bashing Brennan as a "liar." The former CIA director penned an op-ed Friday in the Washington Post attacking the president over his lack of "integrity, decency, wisdom."
Bannon did break with the president somewhat in the CNN interview, telling Zakaria that he had been a "big proponent" of special counsel Robert Mueller and that he had opposed the firing of former FBI Director James Comey. He also railed against former Trump attorney Ty Cobb for providing the president with "terrible advice" regarding the investigation.
Trump himself has bashed Mueller as the "conflicted" leader of a politically motivated "witch hunt."
"I have always said, you know, [Mueller is] a combat marine, a great individual. That ought to play out as it's going to play out," Bannon said Friday. "Now, where I have a problem, and a huge problem, I was the guy that said publicly that Ty Cobb should be fired, OK? He gave the president, I thought, terrible advice. And I actually think lied to the president consistently about what the nature of this investigation was and the timing of it and giving over all our documents."
Bannon served as Trump's campaign manager in the final stretch of the 2016 race and as the White House chief strategist until August 2017, when he was fired shortly after John Kelly took over as Trump's chief of staff.
Bannon was widely seen as one of the architects behind Trump's nationalist agenda and remained an ally of the president until earlier this year, when he was quoted in Wolff's book Fire and Fury suggesting that Donald Trump Jr.'s meeting with a Russian lawyer in 2016 was "treasonous."
"Now that he is on his own, Steve is learning that winning isn't as easy as I make it look," Trump said in a statement in January banishing his former top adviser. "Steve had very little to do with our historic victory, which was delivered by the forgotten men and women of this country. Yet Steve had everything to do with the loss of a Senate seat in Alabama held for more than 30 years by Republicans. Steve doesn't represent my base — he's only in it for himself."