This Week in Trump-Russia News: Trump goes on the offensive against investigators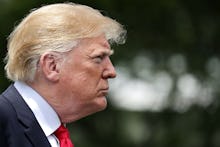 Donald Trump has been attacking Robert Mueller and his Russia probe for more than a year now, but the president this week amped up his offensive on the special counsel.
He continued to rail against the Mueller probe on Twitter, kept pressing his "Spygate" conspiracy theory and issued a surprising, controversial pardon to a conservative provocateur that was interpreted by many to be a message to his embattled personal attorney.
Here's what you need to know about the Russia probe this week — and the legal battle between Trump's lawyers and the Mueller team that may be on the horizon.
Trump pardons D'Souza in possible message to Cohen
Trump on Thursday issued a full pardon to Dinesh D'Souza — the extreme right-wing commentator and filmmaker who pleaded guilty in 2014 to campaign finance violations.
"Mr. D'Souza was, in the President's opinion, a victim of selective prosecution for violations of campaign finance laws. Mr. D'Souza accepted responsibility for his actions, and also completed community service by teaching English to citizens and immigrants seeking citizenship," White House press secretary Sarah Huckabee Sanders said in a statement. "In light of these facts, the President has determined that Mr. D'Souza is fully worthy of this pardon."
The sudden pardon was regarded as a message to stay strong from the president to Michael Cohen — Trump's lawyer and fixer, who has for months been under federal investigation for a number of possible crimes, including potential campaign finance law violations.
It also may have been a message to investigators.
Preet Bhahara — a vocal Trump critic who was ousted as United States attorney for New York's Southern District in early 2017 — led the charge against D'Souza.
Trump tweeted that D'Souza had been "treated very unfairly by our government," and after the pardon the conservative provocateur tweeted at Bhahara that "KARMA IS A BITCH."
Trump this week also floated the possibility of pardoning television personality Martha Stewart, who was convicted in 2004 on charges of obstruction of justice, making false statements and conspiracy for lying to investigators related to an insider trading case, and former Illinois Gov. Rod Blagojevich, who in 2011 was sentenced to 14 years in prison on corruption charges.
Stewart was prosecuted by James Comey, the former FBI director who was fired by Trump in 2017 and has been engaged in a public feud with the president ever since. Mueller has brought down several members of the Trump team, including former national security adviser Michael Flynn, on charges of making false statements to investigators — and has been investigating the president for possible obstruction of justice.
Blagojevich — a former contestant on the Celebrity Apprentice, Trump's former reality television program — was removed from office for attempting to sell former-President Barack Obama's vacated Senate seat and other pay-to-play schemes. He was later convicted on corruption charges.
The possibility of Trump's impeachment has loomed over the Mueller probe — and may be a factor in the upcoming midterm elections, in which a Democratic wave could pose a significant threat to Trump's presidency.
Patrick Fitzgerald, the U.S. attorney who prosecuted Blagojevich, is an ally of Comey and in April announced that he had been representing the sacked FBI director since the previous May.
Trump keeps trying to make "Spygate" happen
Meanwhile, Trump continued to push his "Spygate" conspiracy theory in a transparent attempt to discredit the Mueller probe — even though he still hasn't offered any evidence to support his spying allegations.
"The corrupt Mainstream Media is working overtime not to mention the infiltration of people, Spies (informants), into my campaign!" he tweeted Thursday. "Surveillance much?"
Trump has spent weeks now claiming that Obama, the Democrats and federal law enforcement officials were engaged in a spying conspiracy against him in 2016.
But even members of his own party, including Rep. Trey Gowdy (R-S.C.), have said there's no evidence that investigators did anything inappropriate.
"I am even more convinced that the FBI did exactly what my fellow citizens would want them to do when they got the information they got, and that it has nothing to do with Donald Trump" Gowdy said Tuesday night on Fox News.
Trump has repeatedly sought to discredit his investigators, describing Mueller's probe as a politically-motivated "witch hunt."
In a particularly angry tweet this week, he accused the special counsel of "MEDDLING with the mid-term elections" with the investigation.
Trump knocks Sessions — again
Trump also renewed his public battering of Jeff Sessions — the attorney general he believes hasn't done enough to protect him from the special counsel.
In a three-part tweet Wednesday, Trump quoted Gowdy, who had told Fox News that Trump "could have picked somebody else" if Sessions had informed him he'd recuse himself from the Russia probe.
"And I wish I did!" Trump tweeted.
It was the president's latest broadside against the attorney general, one of his most ardent early supporters. He has spent close to a year attacking Sessions for recusing himself from matters related to the Russia probe, but his tweet Wednesday represented perhaps his most direct statement expressing regret for picking the former Alabama Senator to lead the DOJ.
But Rudy Giuliani — the public face of Trump's legal team — told reporters this week that while the president has "complained about him," he's "not going to fire" Sessions before the Mueller probe is over.
Stage set for legal battle between Trump and Mueller
Trump's lawyers have appeared to be on a collision course with the Mueller team for months now, according to the New York Times.
On Saturday, the paper published a letter Trump's defense sent investigators in January asserting a broad vision of presidential authority, claiming that Trump's actions "could neither constitutionally nor legally constitute obstruction because that would amount to him obstructing himself, and that he could, if he wished, terminate the inquiry, or even exercise his power to pardon if he so desired."
Trump's lawyers in the letter defended Trump's actions related to the firings of James Comey and Michael Flynn, along with the misleading statement he dictated that his song, Donald Trump Jr., initially used to explain his 2016 meeting with a Kremlin-connected lawyer who supposedly had dirt on Hillary Clinton.
The episodes have long been believed to be central to Mueller's inquiry into possible obstruction of justice on Trump's part.
But Trump's lawyers argued in the letter that he did nothing wrong, and claimed that the president would be "hampered" from performing his job duties if he were to sit for an interview with Mueller. Further, the lawyers argued, Trump did not have to testify before investigators because the special counsel hadn't demonstrated why it is necessary.
The Jan. 29 letter appears be an attempt to fend off an interview Trump's legal team has long been wary of granting Mueller — and could set up a showdown if the special counsel subpoenas the president to testify.
Trump seemingly lashed out against the Times report Saturday before it went live online, suggesting in a tweet that Mueller or the DOJ was "leaking my lawyers letters to the Fake News Media."
"There was No Collusion with Russia (except by Democrats)," Trump tweeted Saturday. "When will this very expensive Witch Hunt Hoax ever end? So bad for our Country."