Giuliani says Trump can "probably" pardon himself — but won't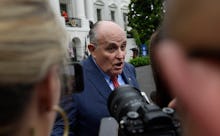 Rudy Giuliani, the formey mayor of New York and now attorney for President Donald Trump, said on Sunday that the president could, technically, pardon himself for any crime if he wanted to — but he won't.
When asked on ABC's This Week whether Trump has the power to pardon himself for a crime — whether collusion, obstruction of justice, or something else — Giuliani said, "He's not, but he probably does."
"He has no intention of pardoning himself, but that doesn't say he can't," Giuliani said.
Giuliani appeared on multiple Sunday morning news shows following an explosive report in the New York Times Saturday about a letter Trump's legal team sent to special prosecutor Robert Mueller. The letter, which was sent to Mueller in January, asserted that the president has broad powers over the investigation into his campaign's potential Russian ties and that he cannot obstruct justice because he could, "if he wished, terminate the inquiry, or even exercise his power to pardon."
Giuliani said that the U.S. Constitution likely backed up the letter's assertions.
"It would be an open question, and I think it would probably get answered by, 'Gosh, that's what the Constitution says, so if you want to change it, change it,'" Giuliani added. "I think the political ramifications of that would be tough. Pardoning other people is one thing, pardoning yourself would be tough."
On Meet the Press, Giuliani further stressed that Trump would not pardon himself, though he noted that there's "nothing that limits" his power to do so for federal crimes.
"Well, it's not gonna happen, so it's a hypothetical point," Giuliani said. "There's nothing that limits the presidential power of pardon from a federal crime, not a state crime. President Trump is not gonna do that, he's obviously not gonna give up any of his pardon powers, or any other future president's pardon powers, but under these circumstances, he's not gonna do that."
"The president of the United States pardoning himself would just be unthinkable, and it would lead to probably an immediate impeachment," Giuliani added. "President Trump has no need to do that. He didn't do anything wrong."
Legal experts cited by the Times are divided on whether the president has the power to pardon himself, as no president has previously tried to do so. In a separate interview on This Week Sunday, however, Trump ally Chris Christie agreed that the president should not be the first to test that power.
"There's no way that will happen," Christie told host George Stephanopoulous. "And the reason it won't is because then it becomes a political problem, George. If the president were to pardon himself, he'll get impeached."
Giuliani also defended the legal letter's broad claims about the president's power over the investigation itself Sunday, describing the U.S. Department of Justice as a "creature of the president."
"The Justice Department is given a certain amount of independence ... but that's all the president's decision," Giuliani said on Meet the Press, though he added that the president is only "constrained by the impeachment power and the court's ability to undo indictments or investigations that are unfair."
Giuliani said that Trump would not exercise this broad power by demanding information or actions from the Justice Department. In addition to noting that shutting down the investigation "could lead to impeachment," Giuliani cited a potential shift in public opinion to explain why the president wouldn't exercise his broad powers.
"We understand that if the president exercised [his power], number one, it would be challenged ... and we realize that the whole switch in public opinion that has been on the president's side would probably shift back," Giuliani said on Meet the Press. "So we do not intend to exercise that power."
The legal letter also revealed that Trump "dictated a short but accurate" statement on behalf of son Donald Trump Jr. concerning Trump Jr.'s 2016 meeting with a Russian lawyer, adding fire to a potential obstruction argument. Trump lawyer Jay Sekulow had previously denied that the president played a role in drafting the letter, whose claims were later found to be misleading.
On Sunday, Giuliani defended Sekulow's statements claiming Trump did not play a role in the letter, comparing them to his own statements concerning payments made by Michael Cohen to Stormy Daniels.
"I think Jay was wrong. This is the reason you don't let the president testify. Our recollection keeps changing, or we're not even asked a question and somebody makes an assumption. In my case, I made an assumption, and then we corrected it, and we got it right out as soon as it happened. I think that's what happened here," Giuliani said.