Trump and his allies insist there's no collusion — but here's all the evidence that already exists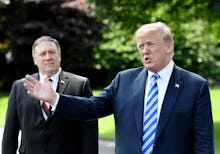 Throughout special prosecutor Robert Mueller's year-long investigation into the Trump campaign's Russian ties, President Donald Trump and his allies have repeated there is no evidence that Trump's campaign colluded with Russia.
"There was No Collusion with Russia (except by the Democrats). When will this very expensive Witch Hunt Hoax ever end?" Trump tweeted Saturday, his latest in an outpouring of tweets insisting on his innocence.
In an interview Sunday on ABC's This Week, Trump lawyer Rudy Giuliani said Mueller's collusion investigation "has come up completely empty," while fellow Republican Newt Gingrich similarly insisted on the president's innocence.
"There is no evidence that Donald Trump had any collusion with Russia, none, zero," Gingrich said Sunday.
Yet in insisting there's no evidence of any form of collusion between the Trump campaign and Russia, Trump and his allies seem to be overlooking some key evidence that's already come out of the ongoing investigation. While we'll have to wait until the investigation concludes to determine what actions can actually be classified as illegal coordination between Russia and the Trump campaign, here are some clear signs suggesting there may be something behind the allegations of collusion.
Donald Trump Jr.'s 2016 meeting
Perhaps the centerpiece of potential collusion evidence that's been released so far is Donald Trump, Jr.'s 2016 meeting with a Russian lawyer, which was explicitly proposed in an email to Trump Jr. as "part of Russia and its government's support for Mr. Trump." The meeting was also reportedly attended by a former Soviet spy with potential connections to Russia's current intelligence community.
Though questions still remain about Trump's potential knowledge of the meeting, new information this week revealed he potentially did play a role in covering up the meeting's true intent. A letter from Trump's legal team to Mueller, which was sent in January but released Saturday by the New York Times, stated Trump "dictated" the ultimately misleading statement — after his team repeatedly denied he had done so.
Paul Manafort
Former Trump campaign manager Paul Manafort, along with associate Rick Gates, were the first people to be indicted by the Mueller team in October. Manafort was indicted on 12 counts, which were largely related to his ties to the Ukrainian government. The indictment noted Manafort's Ukranian activities took place "through at least 2016," suggesting they may have overlapped with his time on the Trump campaign.
Though Manafort initially tried to argue the charges were unrelated to the 2016 campaign, a legal filing and previously unreleased memo to Mueller from Deputy Attorney General Rod Rosenstein suggested there could be connections between Manafort's Ukrainian crimes and potential Russian collusion in the campaign. The memo noted the scope of the investigation included allegations of whether Manafort's Ukranian ties — along with whether he had "committed a crime or crimes by colluding with Russian government officials with respect to the Russian government's efforts to interfere with the 2016 election for president of the United States."
The legal filing also justified the Ukranian charges as being part of the campaign probe, explaining that the investigation into the Trump campaign "would naturally cover ties that a former Trump campaign manager had to Russian associated political operatives, Russian-backed politicians and Russian oligarchs," as well as "any interactions they may have had before and during the campaign to plumb motives and opportunities to coordinate and to expose possible channels for surreptitious communications."
Trump has been trying to distance himself from Manafort in the wake of the indictment. On Sunday, the president complained on Twitter that he hadn't been told about the FBI's ongoing investigation into Manafort's Ukranian connections during the campaign, tweeting, "Paul Manafort came into the campaign very late and was with us for a short period of time (he represented Ronald Reagan, Bob Dole & many others over the years), but we should have been told that Comey and the boys were doing a number on him, and he wouldn't have been hired!"
Michael Flynn
Former national security adviser Michael Flynn was the first current or former White House official to become officially embroiled in Mueller's probe in December, when Flynn pleaded guilty to lying to the FBI about communications he had with Russia in December 2016. Flynn, who is now cooperating with the Mueller investigation, had communicated with Russian ambassador Sergey Kislyak during the transition in an attempt to influence Russia's decisions on an upcoming United Nations vote and their response to Obama-era sanctions on Russia from the United States.
The communications took place after Trump was elected, so Flynn's meetings themselves do not constitute collusion between the campaign and Russia. Legal experts cited by Newsweek suggested, however, the conversations could potentially point to a possible quid pro quo arrangement between the Trump team and Russia in exchange for their influence during the campaign.
The news about Flynn's Russian meetings could also implicate other members of the Trump team. Documents released as part of Flynn's plea agreement revealed he was directed to speak with the Russians about the U.N. vote by a "very senior member" of the transition team, whom Trump's lawyers reported to the New York Times that they believe to be Trump's son-in-law, Jared Kushner.
George Papadopoulos
In addition to the higher-up members of the Trump team who have already been implicated in the Mueller probe, there's also the Trump adviser with whom the entire investigation began: George Papadopoulos. A foreign policy adviser to the Trump campaign, Papadopoulos reportedly spurred the government's investigation by telling an Australian diplomat the Russians had emails that were damaging to opponent Hillary Clinton.
Papadopoulos' Russian information came from a series of meetings the adviser had with a London-based academic with ties to the Russian government, who claimed to have "dirt" on Hillary Clinton. In October, Papadopoulos pled guilty to having previously lied to the FBI about his communications with the professor, which reportedly included discussions on foreign policy and attempts to arrange a meeting between the Trump campaign and Russian government officials.
Though the Trump campaign has tried to dismiss Papadopoulos as a "low-level volunteer," Papadopoulos was reportedly in contact with top Trump aide Stephen Miller about his Russian communications. According to the New York Times, Papadopoulos also brought up the possibility of Trump meeting with Vladimir Putin during a March 2016 meeting, which Trump reportedly "listened [to] with interest."