Today in Trump's America: Americans anxiously await major Supreme Court decisions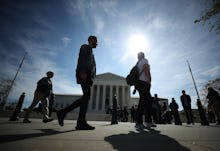 Welcome to Mic's daily read on Donald Trump's America. Want to receive this as a daily email in your inbox? Subscribe here.
Good morning from Emily Singer at Mic.
Here's what's happening in Trump's America:
• The biggest action Monday will be at the Supreme Court, which is slated to release decisions on cases it's heard this term. Many of the major cases are still outstanding, and with just a few weeks left of the court's term, we're likely to get at least some of those decisions on each remaining decision release day. The court begins to release decisions at 10 a.m. Eastern.
About the weekend: Rudy, Rudy, Rudy
Rudy Giuliani once again made the rounds on cable news and with print media organizations over the weekend, and he made some wild claims. According to Giuliani, Trump has the power to pardon himself, and there is no way Trump could be subpoenaed or indicted as a result of special counsel Robert Mueller's investigation.
In an interview with HuffPost, Giuliani literally said Trump couldn't be indicted even if he shot former FBI Director James Comey.
"I don't know how you can indict while he's in office. No matter what it is," Giuliani told HuffPost. "If he shot James Comey, he'd be impeached the next day. Impeach him, and then you can do whatever you want to do to him."
Earlier in the day, Giuliani said Trump also had the power to pardon himself.
"He has no intention of pardoning himself, but that doesn't say he can't," Giuliani said on ABC's This Week, acknowledging that pardoning himself would likely result in "immediate impeachment."
Giuliani's media tour came after the New York Times published a letter Trump's legal team sent to Mueller in January, which said the president cannot obstruct justice because he has the power to "terminate the inquiry or even exercise his power to pardon."
Trump's legal team also claimed the investigation "has endangered the safety and security of our country and has interfered with the president's ability to both govern domestically and conduct foreign affairs."
Today in Trump's America: Undiplomatic diplomat
Trump's U.S. ambassador to Germany has created a diplomatic crisis after he gave an interview to far-right Breitbart in which he suggested he wants to "empower" conservatives in Europe.
"I think there is a groundswell of conservative policies that are taking hold because of the failed policies of the left," Ambassador Richard Grenell told Breitbart.
"I look across the landscape and we've got a lot of work to do, but I think the election of Donald Trump has empowered individuals and people to say that they can't just allow the political class to determine before an election takes place, who's going to win and who should run," Grenell added.
The quote by Grenell contradicts the State Department's policy of remaining neutral in European elections, according to Brookings Institute Senior Fellow Tom Wright, who tweeted that Grenell "just created a huge headache" for Secretary of State Mike Pompeo.
This is not the first time Grenell has caused issues since becoming U.S. ambassador to Germany. In early May, after Trump announced he was ending the Iran nuclear deal, Grenell threatened German companies who did business with Iran.
"As @realDonaldTrump said, US sanctions will target critical sectors of Iran's economy," Grenell tweeted. "German companies doing business in Iran should wind down operations immediately."
Grenell's tweet was not received well in Germany.
"I'm sure that our foreign ministry will indicate to the ambassador that it's not his role to give direction or utter threats to German companies," Michael Tockuss, chairman of the German-Iranian Chamber of Commerce, told the Washington Post.
Capitol Hill happenings: Senator blocked from immigration detention center
Sen. Jeff Merkley (D-Ore.) attempted Sunday to visit an immigration detention center where children who had been separated from their families were being held. It's part of the Trump administration's new policy to deter illegal border crossings. However Merkley was blocked from entering the facility, located in Brownsville, Texas.
"I was barred entry," Merkley tweeted. "Asked repeatedly to speak to a supervisor — he finally came out and said he can't tell us anything. Police were called on us."
Trump has blamed the separation of undocumented immigrant families on Democrats — even though it is his administration that instituted this policy.
"Put pressure on the Democrats to end the horrible law that separates children from [their] parents once they cross the Border into the U.S.," Trump tweeted May 26. "Catch and Release, Lottery and Chain must also go with it and we MUST continue building the WALL! DEMOCRATS ARE PROTECTING MS-13 THUGS."
Merkley, after being denied entry to the immigration detention facility, responded to Trump's incorrect blame-shifting.
"Mr. President, the only 'horrible law' is YOUR policy. YOU have the power to change it. If you saw what I saw today, you would," Merkley tweeted. "Never before has America deliberately inflicted cruelty on children to deter asylum seekers from finding refuge here. Never. And we never should."
Merkley broadcast his attempt to enter the facility on Facebook. You can watch it below.
And the rest…
The mystery of Melania: It's been three weeks since the first lady has been spotted in public, leading to questions about her whereabouts. And the White House announced Sunday that Mrs. Trump won't attend the G7 or North Korean summit with her husband. She is listed as the host of an event for military families at the White House Monday, but it is closed to press, and it's unclear whether she will go in person.