Why isn't any modeling agency signing Leyna Bloom?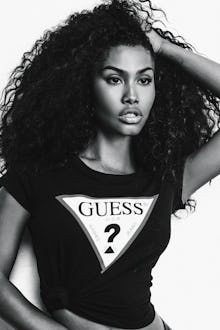 Model Leyna Bloom has walked in New York Fashion Week for labels like Chromat, LaQuan Smith and the Blonds. She's made history as the first out transgender model of color to appear in the pages of Vogue India. She's showed up in campaigns for H&M and in spreads in Cosmopolitan and Galore.
Bloom also has a powerful social media presence, with more than 120,000 followers on Instagram who have consistently helped her personal campaigns go viral — including her quest to become the first out trans model to walk in a Victoria's Secret Fashion Show.
Yet Bloom is not signed to any modeling agency, and instead books her gigs by herself via social media connections and email. She went public with that unfortunate reality May 20 on Twitter, writing: "No major modeling agency in NY & LA will give me a contract. They said it's too much of a gamble and they can't take the risk."
Just like that, another viral campaign was born. Bloom's tweet has been liked more than 25,000 times, and the model said she isn't the least bit surprised.
"[My fans] want to know why I'm not working," Bloom said in a recent interview. "They see the influence."
The push comes after years of agencies telling her "no," even laughing in her face after she first moved to New York City. She went back to those agencies a few years later, with some success at NYFW under her belt, and faced similar doubt.
"The feedback I've been getting is that they say, 'Well, this whole trans thing, we already have someone on board who's trans,'" Bloom said. "'We just don't know, it's a gamble. Maybe in six months you can come back.'"
Despite Bloom's own success — and the record numbers of both trans and nonbinary models and models of color at fashion weeks across the world — agencies still weren't biting. "They feel like it's a trend, but it's not," Bloom said. "They have their token trans models and they're not letting anyone else in the door."
So in May, Bloom used the most powerful tool she has: social media. Through the power of fans and followers, agencies are finally coming her way.
"A lot of major agencies are now sending me emails like, 'Oh my god, can I have a meeting with you? We're sorry we weren't paying attention to you,'" Bloom said. "Now they see it's out there, and it's all because they're being tagged in posts by my fans."
Bloom now has meetings with several New York City agencies on her calendar, but she knows she has to be picky. "I'm trying to figure out, what are they saying?" Bloom said. "What are they putting on the table? Are they trying to fetishize me just for the quota? It's a gamble to see if it works for me."
One reason Bloom's being particularly cautious? She was signed once before, only to find herself doing the majority of her bookings herself. "If I'm making this on my own, what's the point of being a part of an agency?" she said. "I was overworked. I was underpaid. I felt like I was being used. I have no choice but to be self-made."
Now Bloom's on the lookout for an agency that will work just as hard as she does, if not harder.
"For me as a brand, I'm presenting myself first with what I've done on my own and what I've accomplished," Bloom said. "These are the brands I have worked without agency and everything I've booked. You need me, and I need you. History's still being made and there's room for everyone. I want to be that vocal model [who] tells people that."
With the right management, the possibilities for Bloom would feel endless. She'd be able to walk in bigger shows, book more campaigns and receive larger paychecks — and continue to make history, no doubt.
Who will sign her? Her fans are waiting.