President Donald Trump: "I have the absolute right to PARDON myself"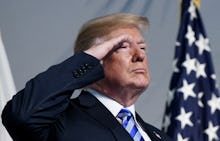 Building off comments lawyer Rudy Giuliani made over the weekend, President Donald Trump declared Monday he has the "absolute right" to pardon himself.
"As has been stated by numerous legal scholars, I have the absolute right to PARDON myself, but why would I do that when I have done nothing wrong?" Trump tweeted. "In the meantime, the never ending Witch Hunt, led by 13 very Angry and Conflicted Democrats (& others) continues into the mid-terms!"
Trump has been fuming about special counsel Robert Mueller's investigation for weeks, dubbing the investigators on Mueller's team "13 angry Democrats," because some of the investigators, whose political affiliations are unknown, have donated to Democratic candidates in the past. Trump has also donated to Democrats, including Hillary Clinton and current Senate Minority Leader Chuck Schumer.
On Monday, Trump went on to attack Mueller's investigation, claiming it isn't legal but he doesn't plan to end it.
"The appointment of the Special [counsel] is totally UNCONSTITUTIONAL!" Trump tweeted Monday morning. "Despite that, we play the game because I, unlike the Democrats, have done nothing wrong!"