March for Our Lives leaders plan a "get out the vote" summer bus tour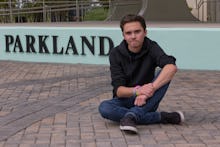 Student leaders from the March for Our Lives movement announced on Monday that they plan to hit the road this summer for a nationwide bus tour aimed at mobilizing their young constituents and getting them registered to vote in the upcoming midterm elections.
During a press conference in the City of Parkland Amphitheater in Parkland, Florida — the same city where a Feb. 14 school shooting left 17 students and staff members dead — key leaders from the movement announced the March for Our Lives: Road to Change tour, which will last 60 days and span 75 stops in at least 20 states this summer.
According to the group's website, the tour will be split into two distinct arms. One bus will trundle across Florida, with young organizers planning to speak with voters about gubernatorial candidate Adam Putnam, who once bragged on Twitter that he's a "proud #NRASellout!" The other bus will chart a bicoastal journey across states including Iowa, Texas, California, South Carolina and Connecticut, focusing on educating young voters and challenging politicians in NRA strongholds.
"Now is the time for the youth vote to stand up to the gun lobby when no one else will and say no to these dangerous policies and loopholes that are allowing kids to be gunned down every day in every community," said Cameron Kasky, a recent Stoneman Douglas graduate. "We've had enough. By empowering millions of young people eligible to vote for the first time this year, we can bring common sense to our state houses and Congress."
Both legs of the tour will kick off in Chicago on June 15, when organizers plan to join the Peace March led by students from St. Sabina Academy. According to a press release for the event, the students plan to partner with organizations like Rock The Vote, Headcount, NAACP and Mi Familia Vota in order to run more effective voter registration drives in the counties they're targeting.
After the deadly mass shooting at Marjory Stoneman Douglas High School, a groundswell of rallies to prevent gun violence have taken place across the country, largely inspired by the passionate activism of the surviving Parkland teenagers. On March 24, the March for Our Lives event in Washington, D.C., and sister marches that took place across the country marked one of the largest instances of student-led activism around curbing gun violence in America.
The student-led March for Our Lives coalition advocates for a number of common-sense reforms to existing gun laws, including a ban on high-capacity magazines, universal background checks and increased funding for intervention programs for at-risk individuals.