Beauty box brand Ipsy apologizes after its Pride Month video is accused of being transphobic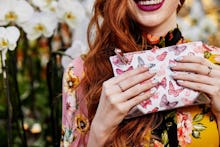 In honor of Pride Month, the subscription beauty box brand Ipsy, which had more than 2.5 million subscribers in 2017, launched a campaign that included a video featuring several creators talking about what pride means to them. The video from over the weekend has since been deleted because people thought a remark used from one of the video's stars was transphobic.
The remark in question came from Cassandra Bankson, a beauty vlogger with more than 820,000 YouTube subscribers and 44,000 Instagram followers.
"I'm attracted to women," Bankson said in the video, according to Racked. "And there's definitely a spectrum between trans women, between authentic cisgendered women and everything in between. But at the same time, I believe that love is beauty, and I can find that in many different places."
Bankson's comment set Twitter ablaze, with many noting it insinuated that Bankson doesn't believe transgender women are authentic women.
Why would Ipsy choose to include this comment anyway, given the fact they could have easily edited it out?
Ipsy then started deleting negative comments underneath the video on Facebook, telling one commenter, "We hear what you're saying, but ask that you respect how our creators choose to identify themselves."
Bankson was the first to apologize, first on video and then a written one on Facebook. "I want to make it as clear as I can that I do not believe that cis women are more authentic than trans women, or that trans women are in any way inferior," she wrote. "As a lesbian I wanted to express my love for women and in wanting to publicly include trans women in that conversation, I accidentally created a divide, I hurt people."
Ipsy issued an apology after deleting the video entirely. "Our sincere apologies to anyone that we hurt with the thoughtless comments included in the video that seemed to imply that trans women were not authentic women," the apology read. "It was a big mistake and oversight to have included that line in what was meant to be a celebration of inclusivity. We realize we really messed up and that we still have a lot to learn."
Ipsy also acknowledged the people who had commented on the video, writing, "To those of you who spoke up, we thank you, from the bottom of our hearts, for helping us realize that we need to be more thoughtful."
Brands misstepping with their Pride Month celebrations is not new, but Ipsy's comes at a time when other beauty retailers and brands have been getting their celebrations of pride very right, including Sephora, which launched a range of in-store classes for transgender and nonbinary individuals this month.
Mic has reached out to Ipsy for further comment.