How Mitch McConnell blew up norms to become the longest-serving Senate GOP leader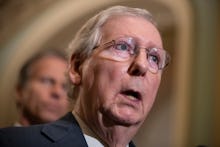 On Tuesday, Senate Majority Leader Mitch McConnell became the longest-serving head of the Senate Republican Conference, having held the position for more than 11 years. So far, he has created a legacy of blowing up political norms, molding the courts in his party's favor and blocking major legislation.
Both McConnell and his Democratic detractors would agree: the 76-year-old Kentucky senator has, over the last decade, played an undeniably consequential role in shaping the federal court system. During his tenure he has successfully blocked now-former President Barack Obama from filling dozens of federal court seats, as well as the Supreme Court nomination of Merrick Garland.
These are moments that he views that as key achievements in his career. In April, McConnell bragged to the Kentucky Today editorial board that his decision to block Obama from filling the Supreme Court vacancy left by Antonin Scalia's death was key to his career. In 2016, he went as far blocking Garland, Obama's Supreme Court nominee.
"I believe that's the most important thing we're doing," McConnell told members of the Kentucky Today editorial board. "You've heard me say before that I thought the decision I made not to fill the Supreme Court vacancy when Justice Scalia died was the most consequential decision I've made in my entire public career. The things that will last the longest time, those are my top priorities."
Democrats, however, argue that McConnell's actions have fundamentally damaged the Senate by blowing up norms for the sake of him throwing his weight around to gain political power.
"One main reason the Senate is broken is McConnell's tenure as minority leader, when he realized that the minority could play reporters by pretending to seek compromise, while using the 60-vote threshold to block everything, denying the majority the ability to deliver on promises," Adam Jentleson, a former top aide to now-former Democratic Senate leader from Nevada Harry Reid, tweeted earlier this year.
In many respects, McConnell's moves have changed how the Senate will function in the future — for better or worse. His blocking of judicial nominations and a Supreme Court nominee makes it unlikely that any of those roles will be filled unless the presidency and Senate are controlled by the same party.
Republicans like to blame Reid, who served as the leader of Senate Democrats for a decade before retiring in 2016, for setting this trend in motion. Reid made the first move in 2013 to "go nuclear" and require that judicial nominees only need a majority of the vote to be confirmed, rather than meet a 60-vote threshold. Yet Reid had gone that route thanks to obstruction from McConnell, who led Senate Republicans to block Obama's nominees at historic levels.
At the time, McConnell accused Democrats of crafting a "fake fight" about judicial nominations, instead of talking about the roll out of the Affordable Care Act, which was at the time facing issues with the website created for Americans to sign up for coverage.
"Millions of Americans are hurting because of a law Washington Democrats forced upon them, and what do they do about it? They cook up some fake fight over judges, a fake fight over judges that aren't even needed," McConnell said at the time when the filibuster was eliminated. "Look, I get it. As I indicated, I'd want to be talking about something else, too."
Of course, now that a Republican is president and nominating federal judges, McConnell doesn't seem to view those judgeships as frivolous.
Aside from throwing out long-standing Senate norms in order to help Trump pack court benches with conservatives, McConnell also helped lead Republicans back to a Senate majority in 2014, after spending eight years in the minority.
"I don't think the majority would exist today without Mitch McConnell," Andrea Bozek, a Republican strategist who worked at the National Senatorial Campaign Committee during the 2016 cycle, said in an interview.
Bozek adds that McConnell helped Republicans win the majority in 2014, and keep it in place in 2016, by beating back Tea Party-aligned candidates in primaries, many of whom used McConnell as fodder for attacks in their campaigns. Those candidates include now-Kentucky Gov. Matt Bevin, who ran against McConnell in a Senate primary in 2014 but lost by nearly 25 points.
"I think that he understands these races, sometimes better than the members or candidates running in them," Bozek said. "I think that's been incredibly helpful, especially given the difficult terrain we had in 2016."
Still, McConnell finds himself reviled by the GOP base.
Anti-establishment candidates continue to use McConnell as a boogeyman in GOP primaries, such as West Virginia Republican Don Blankenship, who branded McConnell as "Cocaine Mitch" in a recent campaign. The coal baron went on to lose his race, and McConnell celebrated with a smug meme playing off the Netflix series Narcos, which is about notorious drug lords.
Today, McConnell finds himself set to enter his 12th year as majority leader, but one with just a 22% approval rating, according to a recent Quinnipiac poll from the end of April.
Even Republicans in the poll disapprove of McConnell as leader, giving him a dismal 35% approval rating. According to that same survey, McConnell's approval is even worse than that of Democratic Minority Leader Nancy Pelosi, who has had hundreds of millions of dollars spent against her in attack ads since 2008.
Despite this dismal popularity, which is lower than that of President Donald Trump, McConnell told Politico that he has no plans to go anywhere.
"I'm proud of the fact that I've enjoyed the confidence of my members," McConnell said. "And I'm proud of the fact that I've been reelected without opposition."