President Donald Trump grants clemency to Alice Johnson after Kim Kardashian West involvement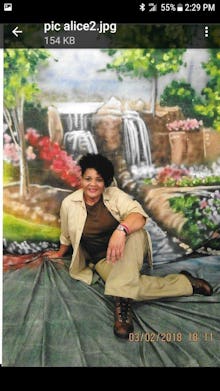 President Donald Trump granted clemency on Wednesday to Alice Marie Johnson, a first-time nonviolent drug offender who was given a life sentence without parole, Mic has learned.
The 63-year-old great-grandmother — whose case has been spotlighted recently by Kim Kardashian West and Mic's Opinion desk — will be released from federal prison in Aliceville, Alabama, where she has been serving her sentence since 1996.
News of Johnson's release comes a week after Kardashian West advocated for her in an Oval Office meeting with Trump.
In an exclusive interview with Mic after that meeting, Kardashian West said Trump "really spent the time to listen to our case that we were making for Alice. He really understood, and I am very hopeful that this will turn out really positively."
Kardashian West initially became involved in Johnson's case in October when she saw a Mic Opinion video featuring Johnson sharing her story from prison.
"I saw your video," Kardashian West told Mic. "If you think about a decision that you've made in your life and you get life without the possibility of parole for your first-time nonviolent offense, there's just something so wrong with that."
After tweeting that video, Kardashian West enlisted her personal attorney Shawn Chapman Holley to provide legal support for Johnson's clemency petition. She has since worked behind the scenes to advocate for Johnson's release and even received a letter in November directly from Johnson.
Mic reported in May that Kardashian West had spoken multiple times to Trump's son-in-law and White House senior adviser Jared Kushner in recent months about Johnson's case. Kardashian West and Kushner's phone conversations about Johnson picked up in recent weeks, which prompted Kushner to bring Johnson's file in front of White House attorneys, and then Trump, about a potential release.
Now Johnson will be released from prison just after celebrating her 63rd birthday and after more than 21 years behind bars.
Johnson was convicted for her role facilitating communications in a cocaine trafficking operation in Memphis, Tennessee. She was given a life sentence without the possibility of parole, plus 25 years, after her co-conspirators testified against her in court.
But inside of prison, Johnson focused extensively on rehabilitation and became known as a model citizen and a mentor to other women, as well as a playwright and a minister.
Due to her exemplary behavior, she was granted permission to participate in a program to hold video conversations with people outside of prison. Through that program, she spoke to students at Ivy League universities, as well as employees at top companies like Google, which is how Mic learned about her story.
In December 2016, then-President Barack Obama granted clemency to 231 people, many of whom had drug-related charges, but Johnson was not on the list. That left her fate in Trump's hands.
Johnson's case represents a significant milestone in the White House's criminal justice reform efforts, which Kushner has spearheaded.
Since taking office, Kushner has made criminal justice reform one of his top priorities and has hosted a series of bipartisan dinners on the topic alongside his wife, senior White House adviser Ivanka Trump. Kushner also recently organized a bipartisan prison reform summit at the White House and is working to pass legislation in Congress.
Now that Johnson will walk free, Kardashian West told Mic she plans to get more actively involved in prison reform issues moving forward, and said Johnson's release represents the first of what she hopes will be many victories for individuals who are trapped in the criminal justice system.
"I think it's definitely a bigger issue that has to be addressed, and I'm glad that I'm starting with her," Kardashian West said.
For more information on the movement to free Johnson, visit mic.com/alice.