Meet Casil McArthur, the trans model on a mission to redefine what a male model looks like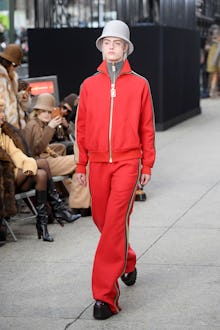 "Before I transitioned, I was looking up trans models and I could never find trans men," model Casil McArthur said in a recent interview with Mic. "It was like, well, is there a place for me in this industry if I transition?"
The answer to that question was, "Yes, big time." Casil McArthur is the exceedingly rare transgender male model success story. He's landed campaigns with Kenneth Cole and Milk Makeup, photoshoots for Interview and W and walked for the likes of Coach and Marc Jacobs at New York Fashion Week.
But three years ago, he was doubting doing any of this at all.
In late 2015, he found himself at a crossroads. Should he continue modeling as a female model, which he had been doing since he was 10 years old, or live as truly himself? "It was stressful for me because I had this whole career ahead of myself that didn't fit my identity," McArthur said.
After quitting modeling for a few months to re-evaluate his life, he decided to begin taking testosterone. But McArthur, now 19, soon found that the industry wasn't exactly well-versed in working with men like himself.
"I think a lot of people didn't know how to talk to a trans male or how to interact with them in the industry," McArthur said. "It was a big learning process for them and for myself. A lot of people would call me a 'tomboy' or even a 'masculine female model.' The recognition for myself as a male wasn't out there, and I'd just be like, 'Well, I've been on testosterone for two weeks or a month, so no, I am a guy.'"
Eventually, as the conversations around transgender models grew, fashion smartened up. On a memorable W magazine set in 2016, the stylist, without asking McArthur, brought a chest binder. "It's little things like that," McArthur said. "This stylist went out into the streets of New York to get this thing for me. It was just so incredibly thoughtful and kind."
Beyond learning how the industry would react to him those first few months, McArthur also got the rare chance to find out just how different modeling as a male is than a female. Almost immediately, he noticed that female models are held to much more unrelenting — and often unhealthy — body standards and expectations.
"That killed me from a super young age," McArthur said. "I always had a bigger chest than most models and it was just difficult. I'd have to go on liquid diets for months just to lose weight. The expectations for female bodies... they have unreachable standards even if they've been modeling for years."
As he entered male modeling, it was less about "every inch counts," which is something he routinely heard as a female model, but a different kind of critique. It's not measurements they're after all the time, but conforming to a certain look. And that's something that McArthur is trying to rebel against already, particularly because he thinks it's one of the reasons why so many trans male models are locked out of this industry.
"It's either super muscular or super frail boys, and for a trans man that's transitioning, that's a super hard thing to keep up with because the puberty you go through — it fucks up your body for a good while," McArthur said. "It takes a while for us to get that masculine physique that is sought after so much in the modeling industry."
Rather than conform to the idea of being a hyper-masculinized adonis, or being spindly, McArthur is doing his part to show men — and trans men in particular — that men don't all have to look a certain way. McArthur's favorite color is pink, for instance, and he loves dresses.
"The most important thing for me to let trans men know is that you can wear a dress if you want to, you can get your nails done," McArthur said. "Nothing takes away from you being a man. Don't be afraid, because you're going to look amazing. I always do my makeup, I always wear dresses. It doesn't mean I want to be a girl. I just want to be my own guy."
McArthur's confidence and redefining efforts couldn't come at a better time; he fashion industry continues to have this conversation around gender, with more trans and nonbinary models cast this past fashion month than ever before.
"In general, everybody leads by following in the fashion industry and I think that they realized that the rest of the world was becoming more accepting of trans people and they needed to do the same," McArthur said.
But still, McArthur remains the most successful trans male model by far. He's passionate about wanting that to change, largely because he knows the impact more men like him being visible would have.
"If the rest of the world can see a trans male model or a trans female model or a nonbinary model, [they] would see that this world can change and realize that this is OK to accept," McArthur said. "You don't have to be scared of this."