Apple's next Safari update will prevent social media Like buttons from tracking you around the web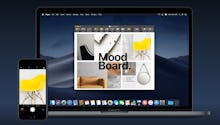 Apple took the stage Monday in San Jose, California, to introduce features coming to the iPhone, Apple Watch and Mac. Along with added options for curbing smartphone addiction and a walkie-talkie function, Apple unveiled some much-needed privacy features on the Mac.
Onstage at WWDC 2018, Craig Federighi, Apple's senior vice president of software engineering, revealed Mac OS Mojave, the latest update to Apple's computing platform. Along with an improved dark mode and better Continuity features, the company is bringing some of the privacy features from the iPhone over to the Mac. One of the features addresses trackers — Safari will soon be able to block trackers that attempt to follow users around the web.
Facebook's Like button is one of the more notorious trackers. For years, Facebook has followed users around the web with the help of its tiny thumbs-up button. Adding it to a page allows the social media giant to take note of which pages a user visits. With a record of nearly every site a person visits, Facebook combines the pages you Like, the data you pour into it and the sites you visit to figure out what ads to show you. If you don't use Facebook, the Like button won't record your browser history but will push ads to you that suggest you join Facebook.
The next version of Safari will allow you to stop this altogether. In the version included with Mac OS Mojave, Safari will ask users if they would like "to allow Facebook.com to see cookies and website data while browsing" the website you happen to be on. The dialog box follows up saying "this will allow Facebook.com to track your activity." From here, users able to choose to allow it or not. Presumably Apple's new tracker protection could work against other companies' trackers as well.
Mac OS Mojave will also lock down your camera and microphone, similar to iOS. Apps will now require specific user consent before the camera and microphone can be used by an app. The same goes for your local email database, Messages history, Safari data, device backups and more.
If Apple CEO Tim Cook's comments toward Facebook CEO Mark Zuckerberg were any indication, Apple is on the opposite end of the privacy spectrum from Facebook when it comes to user data. With the new Mac OS allowing its users' data to stay private, we'll look forward to all the new ways companies will find to spy on us.