Introducing For Days, a new brand using T-shirts to solve fashion's massive waste problem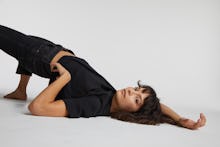 The fashion industry, partly because of our impulse to always have the newest clothes, has a waste problem. Americans throw out an average of 70 pounds of clothes and textiles per person, per year. According to Vox, an estimated 34.5 billion pounds of textile waste will be produced by the United States alone by 2019. That's up 53% from just 1999. And per the Environmental Protection Agency, a whopping 84% of unwanted clothes in the United States in 2012 went into either a landfill or an incinerator.
These kinds of statistics are what got Kristy Caylor, an entrepreneur and fashion innovator who's worked for Gap, All Saints, Band of Outsiders and more, thinking. There had to be a way to cut this kind of waste. There had to be a new kind of system for fashion that could eliminate people having to throw out clothing, or donate it to only see it pile up in a landfill.
"There's just too much stuff!" Caylor said in an interview with Mic. "There's so much stuff! Where is it going? I felt like there was a real opportunity for fashion to crack the code."
Enter Caylor's new company For Days, a clothing company that aims to produce absolutely zero waste, through a simple circular system.
Here's how it works: Through a membership model, you can choose a plan to get one, three, six or 10 new shirts for $38, $108, $210 or $340 a year, respectively. Then, you wear the shirts as often as you'd like, and once one of them feels worn out to you — maybe it's stained or stretched out — you let them know. For an $8 refresh fee, they then send you a new shirt, and in the recyclable bag they sent you that new shirt in, you send that old shirt back, with free shipping.
Once that old shirt is back at For Days, it's sliced into strips, the cotton is cleaned and broken down into a pulp, virgin cotton is added to the upcycled cotton to create a new yarn and a new shirt can be created. No waste, and little effort on your part, too.
Why start with T-shirts? It seemed like the most basic and universal garment to Caylor. "It's one of the most iconic pieces of clothing, and it spans any kind of consumer," Caylor said. "We'd be able to design for it, meaning use materials of integrity, so it felt like a good place to start."
This upcycling process is indeed made possible because the shirts are higher quality, created from 100% organic cotton and dye with custom washes. The shirts come in women's and men's styles including sweatshirts and tank tops, with sizes ranging from XS to XXL for women and S to XXL for men.
The shirts also come in bold colors and have vintage-inspired details, like mock necklines, to make them feel more elevated than a five-pack of shirts you'd get at Kmart. (No shade to Kmart.)
"It doesn't make sense if there's an alternative to continue in this wasteful vein," Caylor said. "Why are we wasting so much stuff if we can use it properly? It's like wait, we can do better, we can improve. There's a way for us to achieve what we want to achieve for the people and planet. Why not do it?"
With this new circular fashion system, For Days could expand in a number of ways. It could start manufacturing soft items like socks and underwear, applying the same membership and trading system. It could go into clothing for kids and babies, which often get stained and would surely benefit from a consistent trading system.
"There's just a new model and we can actually really again challenge status quo if we engage and empower the user," Caylor said. "If we can do that and empower the community and give them alternative choices, there's a profitable way to achieve all those goals too, and we can change fashion for the future."
Currently, For Days is accepting people to join its waitlist on its website, with members set to be approved in the coming weeks.