Today in Trump's America: Paul Manafort could be going to jail, as Mueller seeks to revoke bail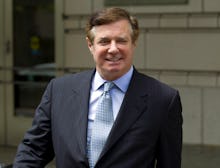 Welcome to Mic's daily read on Donald Trump's America. Want to receive this as a daily email in your inbox? Subscribe here.
Good morning from Emily Singer at Mic.
Here's what's happening in Trump's America:
• It's Super Tuesday in the United States, as voters in eight states head to the polls to select nominees for the 2018 midterm elections. Stay with Mic Tuesday night as we cover results from Alabama, California, Iowa, Mississippi, Montana, New Jersey, New Mexico and South Dakota.
About last night: Manafort accused of witness tampering
Paul Manafort could be headed to jail after special counsel Robert Mueller accused the former Trump campaign chairman of attempted witness tampering and is seeking to have a federal judge revoke Manafort's bail, the New York Times reported.
Mueller alleges in court documents that Manafort attempted to contact two witnesses in the federal tax and money laundering case he is facing to get them to "suborn perjury." Manafort used texts, an encrypted messaging service and, when those efforts to reach out didn't work, an intermediary to try to contact the witnesses, according to the court documents published by the Washington Post.
The witnesses Mueller accuses Manafort of trying to tamper with relate to lobbying work Manafort secretly carried out regarding Ukraine. Manafort paid the two witnesses 2 million euros for the work, according to court documents.
Mueller's attempt to revoke Manafort's bail comes days after Trump distanced himself from Manafort, saying the charges Manafort faces are for incidents before the presidential campaign.
"As only one of two people left who could become President, why wouldn't the FBI or Department of 'Justice' have told me that they were secretly investigating Paul Manafort (on charges that were 10 years old and had been previously dropped) during my campaign?" Trump tweeted Sunday. "Should have told me!"
Trump also suggested in a subsequent tweet Sunday that Manafort was not a crucial member of Trump's team — despite the fact he served during a key period when Trump was trying to secure enough delegates to win the GOP nomination.
"Paul Manafort came into the campaign very late and was with us for a short period of time (he represented Ronald Reagan, Bob Dole & many others over the years), but we should have been told that Comey and the boys were doing a number on him, and he wouldn't have been hired!" Trump tweeted.
Today in Trump's America: Trump to ratchet up culture war
Trump on Monday night "uninvited" the Philadelphia Eagles to a celebration at the White House for the team's Super Bowl victory, blaming it on the team's disagreement with Trump's demand that players "proudly stand for the national anthem, hand on heart, in honor of the great men and women of our military and the people of our country."
In reality, no players on the Eagles knelt during the national anthem last season, nor did any players remain in the locker room during the song. A number of players simply didn't want to go, and Trump decided to cancel and blame it on one of his favorite culture war issues.
"So many lies smh," Torrey Smith, who played on the Eagles' Super Bowl winning squad, tweeted Monday night. "Here are some facts. 1. Not many people were going to go. 2. No one refused to go simply because Trump 'insists' folks stand for the anthem. 3. The President continues to spread the false narrative that players are anti military.
"There are a lot of people on the team that have plenty of different views," Smith continued. "The men and women that wanted to go should've been able to go. It's a cowardly act to cancel the celebration because the majority of the people don't want to see you. To make it about the anthem is foolish."
Philadelphia Mayor Jim Kenney slammed Trump in a statement after his decision to uninvite the team to the White House.
"Disinviting them from the White House only proves that our president is not a true patriot, but a fragile egomaniac obsessed with crowd size and afraid of the embarrassment of throwing a party to which no one wants to attend," Kenney said in a statement.
The Eagles organization, for its part, declined to respond to Trump's attacks in a statement Monday night.
"It has been incredibly thrilling to celebrate our first Super Bowl Championship," the Eagles tweeted from its official account. "Watching the entire Eagles community come together has been an inspiration. We are truly grateful for all of the support we have received and we are looking forward to continuing our preparations for the 2018 season."
Capitol Hill happenings: Primaries galore
Tuesday is a major primary day in America, as millions of voters across eight states select nominees for key contests in the 2018 midterms. The most action will take place in California, where the state's wonky primary system will make the night full of suspense.
The state's unique approach allows the top two primary vote recipients, regardless of party, to advance to the general election. And since a bevy of Democratic candidates jumped into competitive House contests amid a surge of enthusiasm in 2018, the large field of Democrats could split the vote and allow two Republicans to advance to the general election instead.
Polls show a recent Democratic ad campaign may have helped thwart the possibility of the party being shut out of races, but the chance is still there. Republicans, meanwhile, could get shut out of House contests for the same reason. Ultimately, the New York Times' Nate Cohn makes the case that turnout in California's primaries could be a leading indicator about whether there is a Democratic wave brewing.
"If this is a wave environment like in 2006 or 2010, which would probably make the Democrats slight-to-modest favorites to retake the House, it shouldn't be too hard to tell," Cohn writes. "Seat by seat, Democrats would probably be pretty close to half the vote in the seven California districts that Hillary Clinton won in Republican territory in 2016."
Given California's time difference from the East Coast, and the state's preponderance of mail-in ballots, don't expect a result until at least Wednesday morning Eastern time.
Here are the other races to watch Tuesday night.
And the rest…
Melania materializes: First lady Melania Trump made her first public appearance in more than three weeks Monday night for an event celebrating military families. Questions surfaced about Trump's whereabouts after she wasn't seen in public for weeks.
Civics lesson: After the Supreme Court issued a narrow ruling that sided with a baker who refused to make a wedding cake for a same-sex couple, Republican pundits and lawmakers made erroneous attacks on the media, saying the ruling could not be characterized as "narrow" since it was 7-2. Except the number of justices who rule in a case has nothing to do with whether this decision was narrow. "Narrow" refers to the scope of the court's decision.