Donald Trump is running a disinformation campaign against the Eagles to push his culture war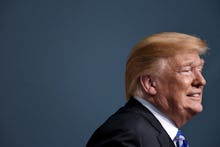 President Donald Trump has disinvited the Philadelphia Eagles to a ceremony scheduled to honor the team's Super Bowl victory, and in the process has spewed a stream of falsehoods about the team's players in an effort to fuel his culture war against the NFL.
Trump disinvited the team after just a handful of players said they were planning to attend. He then said the revoked invitation was due to the team's refusal to follow his demand to "proudly stand for the national anthem, hand on heart, in honor of the great men and women of our military and the people of our country."
"The Philadelphia Eagles Football Team was invited to the White House. Unfortunately, only a small number of players decided to come, and we canceled the event. Staying in the Locker Room for the playing of our National Anthem is as disrespectful to our country as kneeling. Sorry!" Trump tweeted Monday night.
However, no players on the Eagles kneeled in protest of police violence during the 2017-18 season, something players on the team pointed out.
"So many lies smh. Here are some facts," Torrey Smith, who played on the Eagles' Super Bowl squad, tweeted. " 1. Not many people were going to go 2. No one refused to go simply because Trump 'insists' folks stand for the anthem. 3. The President continues to spread the false narrative that players are anti military."
In fact, Smith outlined in February — after the team won the championship — why he didn't plan to attend a future celebration at the White House.
"For me, it's not just about politics," Smith said at the time. "If I told you that I was invited to a party by an individual I believe is sexist or has no respect for women or I told you that this individual has said offensive things toward minority groups...this individual also called my peers and friends SOBs, you would understand why I wouldn't want to go to that party. Why is it any different when the person has the title of president of the United States?"
It's not just Trump who is in on the disinformation campaign against the Eagles players, either.
Fox News ran a misleading segment showing Eagles players kneeling as they reported the story of the team's canceled visit to the White House.
However, those players weren't kneeling in protest; they were kneeling in prayer, and Fox later apologized for the misleading footage.
Trump, for his part, loves the fight against the NFL.
He feels, according to multiple news reports, that it is a winning issue for him in the midterm elections because it fires up his base.
Yet some conservatives are calling Trump out for the entire situation.
"The attempt to make the Eagles event cancellation about the national anthem is just a complete act of deceitful propaganda and conservatives should have zero to do with it," Jonah Goldberg, a writer for the conservative outlet National Review, tweeted. "If that was the issue, why schedule the event in the first place? Also: None of them kneeled. Shameful."