Harvey Weinstein pleads not guilty to rape and criminal sex act charges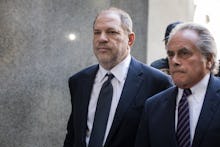 Harvey Weinstein, the ex-Hollywood producer whose alleged harassment and assault was reportedly an open secret in his industry, has pleaded not guilty to rape and a criminal sex act, the Los Angeles Times reported Tuesday.
Weinstein, 66, appeared in a New York City courthouse Tuesday morning to enter his plea. In May, he turned himself in to police and was arrested on charges of first- and third-degree rape and first-degree criminal sex act. The incidents in question occurred in 2004 and 2013, the Los Angeles Times reported.
The disgraced mogul was accompanied Tuesday by his attorney, Benjamin Brafman, who said in May that he believed Weinstein would be acquitted. "Mr. Weinstein did not invent the casting couch in Hollywood," Brafman told reporters, according to the Los Angeles Times. "And to the extent that there is bad behavior in that industry, that is not what this is about. Bad behavior is not on trial in this case. It's only if you intentionally committed a criminal act, and Mr. Weinstein vigorously denies that."
Weinstein's arrest marked somewhat of a milestone for the #MeToo movement. Tarana Burke, the activist who coined the rallying cry, told Variety that Weinstein facing criminal charges is an important step for the movement that has uplifted the stories of countless women — and men – who have alleged abuse at the hands of powerful men in Hollywood and beyond. "This moves from the court of public opinion into an actual courtroom," Burke told Variety. "That is super cathartic for a bunch of the survivors, or even survivors who are not necessarily victimized by him."
Since last month, Weinstein has reportedly been wearing a judge-ordered GPS monitoring device and has been ordered to limit his travel to New York and Connecticut, the Los Angeles Times reported. He was also forced to surrender his passport. In addition to the charges he now faces in New York, there are ongoing investigations into allegations against Weinstein in both California and the U.K.
June 5, 2018, 4:37 p.m.: This story has been updated.