Mic Daily: Jungle primaries, Pride Month merch, Trump's misinformation war and more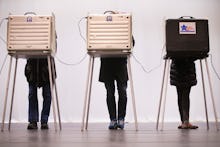 Every day, Mic brings you important stories from around the world that fuel conversation. Mic Daily is a daily newsletter that brings you a cross-section of our most impactful, vital, touching stories of the day.
Jungle primaries, party in-fighting and #MeToo at the polls: What to watch for in Tuesday's voting
June 5 marks one of the biggest primary nights of the midterm elections, as voters in eight states — including the behemoth of California — head to the polls to select their nominees for November's contests.
Not sure how California's "jungle primary" works? Want to know how the #MeToo movement is affecting the elections? We've got all that information and more.
Your guide to brands whose pride-themed merch actually gives back to the LGBTQ community
June marks the beginning of Pride Month, a time when brands 'round the world jump on the rainbow bandwagon and unleash their pride-themed merchandise.
To help you be a more informed consumer, Mic rounded up information on over a dozen pride-themed campaigns from companies like Target, H&M and Apple with information on whether these brands are donating any of their proceeds to LGBTQ organizations — and if so, how much.
Donald Trump is running a disinformation campaign against the Eagles to push his culture war
President Donald Trump has disinvited the Philadelphia Eagles to a ceremony scheduled to honor the team's Super Bowl victory, and in the process has spewed a stream of falsehoods about the team's players in an effort to fuel his culture war against the NFL.
Target and Walmart stop selling the superhackable kids' toy CloudPets after pressure from Mozilla
CloudPets, stuffed animals that contain Bluetooth and a built-in microphone, have been the center of several hacking scandals. In advance of a petition from Mozilla, CloudPets smart toys will be removed from Target and Walmart store shelves.
At the world's first fully accessible water park, every guest can swing, splash and play in sand
In San Antonio, Texas, the water park Morgan's Inspiration Island — sister to theme park Morgan's Wonderland — offers free admission to anyone with a special need. That includes renting a fancy waterproof wheelchair for those who want to splash around.
"We're not just trying to be barrier-free in a physical sense but want to try to eliminate economic barriers as well," Morgan's Wonderland communications director Bob McCullough said. Both parks are nonprofit organizations that rely on volunteers and donations to keep the rides going.