Why New Jersey's primaries hold the key to Democrats' hopes of a House majority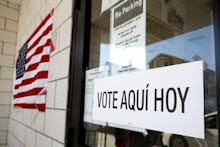 California is garnering a lion's share of the attention from Tuesday's spate of primaries across the country. But results out of primaries in New Jersey, which is also holding primaries on Tuesday, are equally as important to Democrats' chances at winning a House majority in November.
Four GOP-held seats in New Jersey are currently rated competitive by Inside Elections. That's nearly as many as the seven Republican-held seats in California that Democrats are trying to flip. Together, the competitive seats in both states amount to nearly half of the 23 districts Democrats must flip if they want to win the House.
Unlike California, however, the primaries in New Jersey aren't very competitive. Barring some kind of unexpected event, it's clear who Democrats will nominate in these four seats.
In New Jersey's 2nd District — which encompasses the entire southern third of the state — Democrats are poised to nominate state Sen. Jeff Van Drew. Trump carried the 2nd District by nearly a 5-point margin in 2016. But the district's current GOP Rep. Frank LoBiondo is retiring, and Republicans failed to recruit a strong candidate to run here. Given Van Drew's more moderate profile (he's pro-gun), Inside Elections predicts this is one of the GOP seats that will likely flip. The nonpartisan outlet rates the race a "tilt Democratic" contest.
In New Jersey's neighboring 3rd District, former National Security Council official Andy Kim is running unopposed for the Democratic nomination. He will face GOP Rep. Tom MacArthur in a district Trump won by about a 6-point margin in 2016.
Kim is likely to make MacArthur's shepherding of the GOP's Affordable Care Act repeal in 2017 a key issue in the race.
Further north in New Jersey's 7th Congressional district, Tom Malinowski looks to be the likely Democratic nominee to face off with GOP Rep. Leonard Lance.
Malinowski, a former assistant secretary of State for democracy, human rights, and labor in the Obama administration, would face off with Lance, in a district Hillary Clinton carried by a narrow 1-point margin in 2016. The race is currently rated "tilt Republican" by Inside Elections.
New Jersey's 11th District is also one of the seats Inside Elections already predicts could flip in November. Trump won the 11th District by a slim 1-point margin in 2016. But the district's longtime Rep. Rodney Frelinghuysen — whose family has held positions of power in New Jersey politics since the American Revolution — is retiring.
Democrats are likely to nominate female veteran Mikie Sherrill, a Navy pilot and former federal prosecutor, who they believe is a good fit for this highly educated and suburban district. Republicans are excited about Antony Ghee, also a veteran and attorney