Antash'a English, transgender woman, fatally shot in Jacksonville, Florida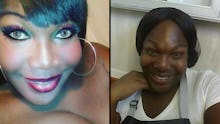 Antonia English, 38, known to friends as Antash'a, died Friday in a Jacksonville, Florida, hospital after being fatally shot, local outlet First Coast News reported on Sunday. English's death marks at least the 11th homicide of a transgender person so far this year — and the second reported homicide of a trans woman in Jacksonville. In February, Celine Walker, a 36-year-old trans woman, was killed at a Jacksonville hotel.
On her Facebook page, English described herself as "a very independent transgendered woman ... who thrive[s] on being the best person I can be." In May, just weeks before her death, English had shared a photo of herself with the caption, "I will no longer be a victim of discrimination. # Trans rights."
Friends and loved ones remembered English as a strong personality and a good friend. Taliyah Smith, who was friends with English, told First Coast News that English was a regular performer at InCahoots, a local gay nightclub. "She was an unapologetic, bold and loyal person," Smith said. "We met years ago while at a gay pageant. We both were entertainers."
LaTrini English Brown, who identified himself on social media as English's brother, posted a series of messages of mourning on his Facebook page. Among them was the message, "I miss u babes. Loving u always. God loved u more. Rest in Peace."
A Thursday evening vigil is planned to honor English, followed by a benefit show at InCahoots, the club where she was known and loved. On the Facebook page for the event, organizers wrote, "To honor our beloved Antasha Devine Sherrington English, we are asking you to come out and celebrate her life with a candlelight vigil and balloon release ... Upon the completion of the vigil, we will walk from the park to InCahoots showing our love for Shay and all other transgender and LGBTQIA friends that we have lost over the years and our continued fight for equal rights in the world. We will be providing 38 candles and balloons to mark the number of years, this world has been blessed with Shay's presence."
The Jacksonville Sheriff's Office, which is handling the ongoing investigation into English's death, misgendered her in a statement released to local media, First Coast News reported. Advocates told Mic in 2017 that misgendering of trans victims — either by law enforcement, media or family members — can mean that the number of annual homicides of trans people may be significantly underreported.