Who's Sorry This Week? Fox News, Facebook and other public apologies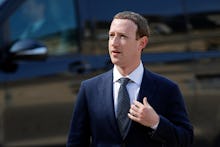 Another week, another deluge of apologies.
In Who's Sorry This Week? Mic tracks down the most prominent mea culpas from celebrities, companies and other public entities trying to make amends for their various screw-ups.
This week had no shortage of apologies, so let's get right to it.
Fox News is sorry it implied the Philadelphia Eagles kneeled in protest during games
On Monday, President Donald Trump canceled a White House celebration with the NFL's Philadelphia Eagles after fewer than 10 players said they wouldn't show, according to the New York Times. The winners of the Super Bowl have traditionally made a visit to the White House.
It's unclear exactly why each player declined to attend, but it's inevitably been wrapped up in the conversation surrounding Trump's vocal opposition to players kneeling in protest of anti-black violence by police. (The NFL recently passed a rule requiring teams to remain standing during the national anthem. Those who do not wish to stand have to remain in their locker rooms.)
In covering the story, Fox News showed images of Eagles players kneeling, creating a narrative that Eagles players had been kneeling during the national anthem, pitting the Eagles and Trump against one another. Critics swiftly noted that the images were actually showing Eagles players kneeling in prayer — and, in fact, no Eagles had kneeled in protest during the national anthem.
"This can't be serious," Philadelphia Eagles player Zach Ertz tweeted. "Praying before games with my teammates, well before the anthem, is being used for your propaganda?! Just sad, I feel like you guys should have to be better than this."
Fox News released a statement Tuesday apologizing for using the misleading footage.
"During our report about President Trump canceling the Philadelphia Eagles trip to the White House to celebrate their Super Bowl win, we showed unrelated footage of players kneeling in prayer," Fox executive producer Christopher Wallace said, according to the Washington Post. "To clarify, no members of the team knelt in protest during the national anthem throughout regular or postseason last year. We apologize for the error."
Facebook is sorry it made millions of users' posts public
For a few days in May, nearly 14 million Facebook users' privacy settings could have been changed, potentially exposing posts they thought were private to a much wider swath of people. Facebook said this was caused by a bug that affected certain users between May 18 and May 22, which caused Facebook to suggest posts be shared as "public" instead of "private."
On Thursday, Facebook released a statement apologizing for the mistake, saying that users who were affected will receive a notification asking them to review their privacy settings, according to Fast Company.
"We'd like to apologize for this mistake," Erin Egan, Facebook's chief privacy officer, said in a statement. "We recently found a bug that automatically suggested posting publicly when some people were creating their Facebook posts. We have fixed this issue and starting today we are letting everyone affected know and asking them to review any posts they made during that time. To be clear, this bug did not impact anything people had posted before — and they could still choose their audience just as they always have."
Ordinarily, a blunder like this would certainly be embarrassing, but for Facebook, which has consistently fumbled issues of personal privacy, the damage is magnified.
Samantha Bee apologizes (again) for calling Ivanka Trump a "feckless cunt"
On May 30, Samantha Bee called Ivanka Trump a "feckless cunt" on an episode of her late-night TBS show Full Frontal With Samantha Bee. The insult was part of a segment meant to criticize Trump for her complicity in President Donald Trump's much-derided immigration policy that separates undocumented immigrants from their children.
"Let me just say, one mother to another: Do something about your dad's immigration policies, you feckless cunt," Bee said. "He listens to you. Put on something tight and low-cut and tell your father to fucking stop it. Tell him it was an Obama thing and see how it goes."
The comments drew criticism from mostly conservative voices, including the White House, which called her remarks "vile and vicious." President Trump called on TBS to fire Bee, via Twitter.
Bee had already issued an apologized on Twitter the day after the episode aired, but apologized yet again on Wednesday night's episode of Full Frontal.
"A lot of people were offended and angry that I used an epithet to describe the president's daughter and adviser last week," Bee said. "It is a word I have used on the show many times, hoping to reclaim it. This time, I used it as an insult. I crossed the line, I regret it and I do apologize for that."
Bee continued to explain that she wanted to shine a light on an immigration policy she vehemently disagreed with, but regretted that anger over her word choice overshadowed the central issue at hand.
"I should have known that a potty-mouthed insult would be inherently more interesting to them than juvenile immigration policy," Bee said. "I would do anything to help those kids. I hate that this distracted from them, so to them, I am also sorry."
Qatar Airways CEO Akbar Al Baker is sorry he said a woman couldn't handle his job
Akbar Al Baker, CEO of Qatar Airways, said Tuesday in a press conference that a woman could not run the company because it would be too challenging, according to Bloomberg. Al Baker said his comment was playful and that it had been "sensationalized."
"It was just a joke," Al Baker said. "Everybody laughed. I thought that was the end of the story." (Few people laughed, Bloomberg reported.)
Later that day, the Qatar Airways Twitter shared an apology attributed to Al Baker.
"I would like to offer my heartfelt apologies for any offense caused by my comment yesterday, which runs counter to my track record of expanding the role of women in leadership throughout the Qatar Airways Group," Al Baker said.