Super Tuesday live blog: Voters head to the polls in 8 states across the country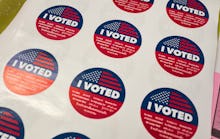 Tuesday is the biggest primary night of the midterm elections, as voters in eight states went to the polls to select their nominees in a spate of key contests.
Much of the action is taking place in California, where the state's wonky primary could lead to some surprising outcomes where two members of the same party advance to the general election.
Meanwhile, New Jersey is also holding a primary, and has a number of races that are important to Democrats' quest for a House majority. But the results there aren't likely to be too surprising, with many of the nominees all but decided going into the election.
There are also races in Alabama, Iowa, Mississippi, Montana, New Mexico and South Dakota that are worth watching — especially to see whether the trend of women dominating primaries continues.
11:55: p.m.: Deb Haaland wins New Mexico Democratic primary, is poised to be the first Native American woman in Congress
Deb Haaland has won the race to be the Democratic nominee in New Mexico's 1st congressional district, positioning her to be the first Native American woman in Congress, according to the Associated Press.
Haaland, a member of the Pueblo of Laguna tribe, ran on an unabashedly progressive platform that supports Medicare for all and an aggressive push toward renewable energy. She is also the first candidate to qualify for the November ballot who supports the growing movement to abolish and/or defund Immigration and Customs Enforcement.
New Mexico's 1st congressional district is safe Democratic territory, meaning she will likely face an easy path to victory in November.
11:27 p.m.: Former Miss America wins Democratic primary in Alabama congressional race
Former Miss America Mallory Hagan has won the Democratic primary for Alabama's 3rd congressional district according to the Associated Press.
Hagan has been vocal about her own #MeToo story having faced sexual harassment in the beauty pageant world. She will face eight-term Alabama Republican Rep. Mike Rogers in an uphill battle for the seat. Check out Mic's profile on her here.
10:59 p.m.: Emily's List-endorsed candidate wins Democratic primary for swing Iowa district
Small business owner and activist Cindy Axne has won the Democratic primary to run for Congress in Iowa's hotly contested 3rd congressional district, according to the Associated Press.
Axne, a local small business owner who was endorsed by the Democratic group Emily's List, bested former Bernie Sanders campaign aide Pete D'Alessandro, as well as Eddie Mauro, an Iowa insurance executive.
Iowa's 3rd congressional district is considered to be a potential pickup for Democrats in November.
10:46 p.m.: Fred Hubble wins Democratic primary for Iowa governor's race
Democrat Fred Hubble has won the race to challenge Republican Governor Kim Reynolds, according to the Associated Press.
Hubble and his fellow Democratic candidates have focused their campaigns on Reynolds's decision to privatize the state's Medicaid program, and the governor's race is set to be a referendum on that decision. Hubble's platform includes de-privatizing the state's Medicaid health care program. His top progressive primary challenger, labor leader Cathy Glasson, supported moving the state to a more ambitious single-payer style health care system.
10:16 p.m.: NRA-supporting moderate wins Democratic nomination in NJ swing district
New Jersey Democrats have chosen a moderate Democrat — who has a 100% rating from the National Rifle Association and a history of supporting abortion restrictions — to represent them in New Jersey's 2nd congressional district.
New Jersey state Sen. Jeff Van Drew won the seat with more than 57% of the vote and over 80% of precincts reporting, according to the New York Times. Van Drew had the backing of the Democratic National Campaign Committee, while first-time progressive challenger and African American candidate Tanzie Youngblood mounted an insurgent campaign against the conservative Democrat.
Youngblood was running a progressive campaign and had the backing of local progressive groups like the local chapter of Indivisible. She publicly called out her opponent for his more conservative stances on issues like gun control.
9:46 p.m.: Democrats flip a seat in a Missouri state Senate special election
Democrats have officially flipped a Republican-held state Senate seat in Missouri.
Democratic candidate Lauren Arthur defeated the Republican nominee Kevin Corlew by 21 points, the Washington Post reported.
This is the 42nd state legislative seat Democrats have flipped since Trump took office.
9:29 p.m.: Bob Menendez wins Democratic nomination in New Jersey
The Associated Press has declared Menendez the winner in New Jersey's Democratic Senate primary.
Menendez defeated his unknown and under-funded Democratic opponent, Lisa McCormick, by an underwhelming 58.9% to 41.1%.
Menenedez will now face Republican Bob Hugin in November. However, his weak showing in the primary is sure to lead to speculation about whether the New Jersey Senate race will be competitive in the fall, despite the state's heavy Democratic bent and the Democratic enthusiasm generated by Trump's turbulent presidency.
9:09 p.m.: Is a GOP incumbent headed for a runoff?
Rep. Martha Roby (R-Ala.) is facing a primary challenge after she enraged the conservative base in 2016 when she declared that she would not vote for Trump after the infamous Access Hollywood tape dropped at the height of the presidential campaign.
Now it looks like Roby may not garner the 50% needed to avoid a runoff and win the primary outright. This will prolong her primary, and possibly opening her up for defeat.
With 6% of precincts reporting, Roby is at 44%, while her next closest challenger, Bobby Bright, is at 27.3%.
8:45: p.m.: Voting issues in California
A printing error in Los Angeles County led 118,522 names to be left off voter rolls, Los Angeles County Clerk Dean C. Logan said in a news release.
Some of the voters were located in California's 39th District, a contest where Democrats are hoping to avoid being shut out of the November general election.
While the voters whose names were left off the ballot could cast provisional ballots, that could mean that vote counting could take even longer.
"Our office is committed to ensuring every voter has a positive voting experience on Election Day," Logan said in a news release. "We apologize for the inconvenience and concern this has caused. Voters should be assured their vote will be counted."
8:23 p.m.: Tepid showing for New Jersey Democratic Sen. Bob Menendez
Bob Menendez is up against an under-funded and unknown challenger in his quest for re-election. And yet, challenger Lisa McCormick is holding her own, so far garnering 43.6% of the vote with some early ballots in.
Menendez is running for re-election after a long corruption trial, in which he was ultimately acquitted. It appears that voters might be punishing him anyway, given the weak numbers he's posting.
New Jersey is a heavily Democratic state, so Menendez is still the favorite in the contest against likely GOP challenger Bob Hugin. But the race may not be the kind of gimmie it would otherwise be in a strong Democratic year in a deep Blue state.
7:50 p.m. Eastern: Timing of results
Polls will close in waves, starting with New Jersey at 8 p.m. Eastern. First results from the House contests in the Garden State should start rolling in at around 8:30 p.m.
Polls in Alabama and Mississippi also close at 8 p.m. Eastern. The biggest races to watch there are:
1. A Senate primary in Mississippi between appointed GOP Sen. Cindy Hyde-Smith and anti-establishment Republican Chris McDaniel.
2. A GOP primary in Alabama's 2nd District, where Republican Rep. Martha Roby is facing a primary thanks to her assertion during the 2016 campaign that she would not vote for Donald Trump.
Next come poll closures in South Dakota and New Mexico at around 9 p.m. Eastern.
In New Mexico, Democrat Deb Haaland is looking to become the first Native American woman in Congress. In South Dakota, Rep. Kristi Noem faces a competitive Republican primary for the gubernatorial nomination in the state. It's possible she may fall victim to the anti-establishment undercurrent in the GOP that's hurt members of Congress seeking to ascend to higher office.
Next come poll closures in Iowa, where Democrats are hoping to contest two House seats.
And polls in the big kahuna, California, close last at 11 p.m. Eastern. First results will likely come in 15 minutes after polls close. Those first results will be the mail-in ballots that were received throughout the weekend. Election Day votes won't come in until almost midnight.
Strap in for a long night, folks.