Democrats demand oversight of Trump-Kim summit — but may also be setting "unrealistic expectations"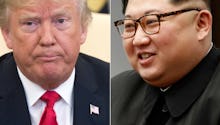 In a letter Monday to President Donald Trump, Senate Democrats demanded congressional oversight over the administration's diplomatic outreach to North Korea and outlined a list of "principles and goals" for his upcoming Singapore summit with Kim Jong Un.
According to the group of Democrats, a successful agreement would require North Korea to completely dismantle and remove its nuclear, chemical and biological weapons; continue the suspension of its ballistic missile testing; and allow for "robust" compliance inspections.
Further, the senators wrote, "any agreement with North Korea must be permanent in nature."
"We believe that Congress ... has an important role to play in working with the administration to support your efforts and to shape U.S. policy toward North Korea," the Democrats wrote. "However, we also believe that Congress must act as a check on any agreement that does not live up to these principles by imposing tougher sanctions and oversight."
The letter was signed by Sens. Chuck Schumer (D-N.Y.), Bob Menendez (D-N.J.), Dick Durbin (D-Ill.), Mark Warner (D-Va.), Dianne Feinstein (D-Calif.), Patrick Leahy (D-Vt.) and Sherrod Brown (D-Ohio).
Yet experts warned Tuesday that the letter could set "unrealistic expectations" for the highly anticipated June 12 summit.
"It's important for Congress to signal to the president that they are watching the negotiations closely and they expect a solid agreement," Kelsey Davenport, director of nonproliferation policy at the nonpartisan Arms Control Association, said by phone Tuesday. "But at the same time, Congress must ensure the president has the flexibility to negotiate and not lay down any unrealistic expectations that impede the diplomatic process."
The summit was first announced in March, following a strong diplomatic push by South Korean President Moon Jae-in earlier this year. After a war of words between members of the Trump and Kim administrations last month, however, Trump abruptly called the meeting off, citing "tremendous anger and open hostility" from his North Korean counterpart.
Still, he left the door open to the possibility of holding the meeting as scheduled or at a later date, and U.S., South Korean and North Korean officials spent the last week of May scrambling to salvage it. On Friday, a week after scrapping the meeting, Trump announced it was back on.
The Trump administration's ultimate goal has been the complete, verifiable and irreversible dismantlement, or CVID, of North Korea — something Trump has said would ideally occur immediately, though he has recently suggested he would be open to Pyongyang denuclearizing in phases.
The Democrats' letter on Monday gave the impression they would "demand that the Trump administration's negotiating actions match its negotiating rhetoric," according to Alexandra Bell, a former State Department official during the Obama administration and senior policy director at the Center for Arms Control and Nonproliferation.
"The call for Congress to be better informed about the process and policies involved in this Summit and subsequent negotiations is completely reasonable," Bell said in email Tuesday.
But, Bell said, elements of the letter were "a little hawkish and contained some terms and phrases that seemed needlessly draconian."
"When it comes to nuclear policy, technical language and word choice is exceedingly important and leaders on both sides of the aisle seem to, at times, lack appreciation for that fact," Bell said.
"It's not clear that removal of nuclear weapons is preferable to dismantlement on site," according to Bell, and the "anywhere, anytime" inspections Democrats demanded in their letter may be unrealistic. And, according to Davenport, it may also be unrealistic — and unnecessary — to demand that North Korea give up all its ballistic missiles.
"Not all ballistic missiles are created equal," Davenport said.
Further, Davenport told Mic, the letter could be construed as calling for sanctions relief to North Korea only after its nuclear weapons have been dismantled and removed. "Putting some sanctions relief on the table early might be necessary for the us to incentivize further action by North Korea," she said.
Overall, though, both experts welcomed the call for oversight of the diplomatic process, with Davenport saying it is "appropriate and necessary for members of Congress to demand more clarity from the administration."
"Congressional support can facilitate better implementation of the agreement and provide more assurance that the U.S. will continue to abide by it even after administrations change," Davenport said.
Trump, who had previously played up expectations for the summit, has said in recent days that he hopes the meeting will "start a process."
If the summit occurs as expected, it will mark the first time a sitting U.S. president has met with a North Korean leader. It will take place the Capella Hotel on Sentosa Island, just off Singapore's southern coast, the White House announced Tuesday.
"Meeting in Singapore with North Korea will hopefully be the start of something big," Trump tweeted Tuesday morning. "We will soon see!"