Keith Ellison will run for Minnesota attorney general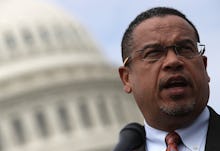 On Tuesday, Rep. Keith Ellison (D-Minn.) officially filed to run for attorney general in his home state of Minnesota, marking a major shift in his political trajectory.
Ellison has been a rising star within the Democratic party for years, and has been rumored to be considering a run for the position since at least January. In February of 2017 he was the progressive favorite to become the Democratic Party's new national chair, before losing out in a close race to establishment favorite Tom Perez. After the race, Perez appointed Ellison to be the Democratic National Committee's deputy chair.
On Tuesday, Ellison told local press that he has no plans to step down from his DNC position while running for attorney general.
Ellison is currently one of only two Muslim members of Congress, and if elected to the attorney general position would be the United States's first ever Muslim statewide elected official.
Ellison's entry into the attorney general race came at the 11th hour. On Monday, just one day before Minnesota's candidate filing deadline, incumbent state Attorney General Lori Swanson decided she will not seek re-election and instead enter the crowded race to replace the state's outgoing governor, Mark Dayton. Swanson's decision came just days after she failed to meet the Minnesota Democratic-Farm-Labor Party's 60% threshold to be nominated for re-election.
His decision to step away from national politics and run for statewide office comes at a time when Congress's approval rating remains perilously low and former members of Congress are finding it harder and harder to win the nomination for higher statewide offices like governor or U.S. Senator.
Across the country, the position of state attorney general is also increasingly being seen as a stepping stone to higher office. In 2016, then-Rep. Xavier Becerra (D-Calif.) decided leave office in order to become his state's attorney general. That same year, two former state attorneys general, California's Kamala Harris and Nevada's Catherine Cortez Masto, both won races to become U.S. senators for their respective states.
Ellison's decision to run for attorney general also creates an opening for a new Democratic candidate to replace him in the race for Minnesota's 5th Congressional District.
On Tuesday state Rep. Ilhan Omar — who is Muslim, a former refugee and the first ever Somali-American to win elected office in the United States — filed to replace Ellison on the congressional ballot line in November.
Should Omar win the primary race in the safely Democratic Minneapolis district, she will likely go on to be among the first Muslim women ever elected to Congress. There are three other Muslim women currently seeking their party's nomination for House and Senate seats in 2018.
Omar has already become a rising star in the Democratic party. Her 2016 run for state representative earned considerable national media attention and she has been featured in a music video for American pop-rock band Maroon 5.
June 5, 4:16 p.m.: This story has been updated.