Democrat Deb Haaland poised to be the first Native American woman in Congress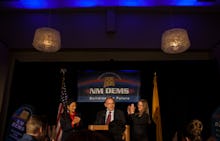 Congress may have its first Native American woman come November.
On Tuesday, congressional candidate Deb Haaland won the primary to be the Democratic candidate in New Mexico's 1st congressional district.
The Associated Press called the race for Haaland late Tuesday night. Haaland bested four other Democratic candidates in a crowded primary race.
A member of the Pueblo of Laguna tribe, Haaland has long been active in Democratic politics, having worked on former President Barack Obama's 2008 campaign and chairing her state's Democratic Party shortly after. In 2014, she mounted an unsuccessful run for lieutenant governor of New Mexico.
Haaland is one of several Native candidates who have stepped up to run this year, including Paulette Jordan, a member of the Coeur d'Alene tribe who recently won the Democratic nomination for governor of Idaho, and Kaniela Ing, a native Hawaiian running for Congress in Hawaii.
Haaland is running for the seat currently held by Democratic Rep. Michelle Lujan Grisham, who is not seeking re-election in order to run for governor. A staunch progressive, Haaland supports a Medicare-for-all single-payer health-care system, debt-free college and moving the U.S. to a 100% renewable energy system.
Haaland is also the first candidate who has called for defunding or abolishing Immigration and Customs Enforcement — a growing movement within the progressive left — to qualify for the November ballot.
New Mexico's first congressional district is solid Democratic territory. Hillary Clinton won the district in 2016 by more than 16 percentage points, suggesting Haaland won't face a tough race in November.
Haaland will face former New Mexico state Rep. Janice Arnold-Jones in November.