Democratic women are riding a primary high, while Republican women struggle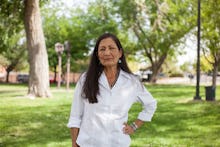 Tuesday night once again proved to be a boon for Democratic female candidates, who won primary contests in races across the country on one of the biggest primary nights of the 2018 midterms.
Yet while Democratic women cleaned up, Republican women running for office struggled in their primaries — including incumbent House Rep. Martha Roby (R-Ala.) who faced voter backlash after she refused to vote for President Donald Trump in 2016 thanks to the Access Hollywood tape in which he bragged about grabbing women "by the pussy."
It's a notable dichotomy in 2018, which is gearing up to be the "Year of the Woman 2.0" in the wake of the #MeToo movement. (The first "Year of the Woman" was 1992.)
"Women make up a larger proportion of the Democratic Party than the Republican Party, so there are more women to vote for women," Stu Rothenberg, a nonpartisan political handicapper, said in an interview.
Rothenberg said that in the Democratic Party, voting for women is seen as a statement of equality, and that there is "less of a commitment to that" within the Republican grassroots.
"They think that perspective is a liberal, affirmative-action perspective," Rothenberg said. "It's a big difference."
Delving into Tuesday's results, Democratic women fared well in primaries across the country. Many of the women who came out victorious in crowded primary contests were backed by Emily's List — an organization that provides organizational and financial support to Democratic women who back abortion rights.
Republican women, however, struggled. Roby looks to be in deep trouble in her quest for re-election. She was forced into a runoff with a male challenger who has deemed her insufficiently conservative.
In Mississippi, a GOP primary in the state's open 3rd District saw two men advance to a runoff, leaving the women challengers in the dust.
To be sure, some GOP women did fare well: Alabama Gov. Kay Ivey was renominated, and Republican Rep. Kristi Noem won a primary for governor in South Dakota, ending the trend of GOP members of Congress failing in their bids for higher office.
Yet Democratic women really flourished Tuesday night, and will be the nominees in races that are key to Democrats' hopes of winning more political power in November.
Democratic women victors include:
Mikie Sherill
Sherrill, a former Navy pilot and lawyer, won her primary in New Jersey's 11th District. She joins a growing contingent of women military veterans winning Democratic primaries in 2018.
She starts off as the favorite in this district, which is being vacated by retiring GOP Rep. Rodney Frelinghuysen, a name synonymous with New Jersey's politics given his family's history of holding elected office in the state since the American Revolution.
Deb Haaland
Haaland won a primary in the heavily Democratic 1st District of New Mexico, and is poised to be the first Native American woman in Congress.
Xochitl Torres Small
Democrats nominated Torres Small in New Mexico's 2nd District, which is being vacated by GOP Rep. Steve Pearce, who is the Republican nominee for governor in New Mexico.
Torres Small will face a Republican woman, New Mexico state Rep. Yvette Herrell, in this race.
Democrats tout Torres Small, an attorney who advocates for rural issues, as the kind of candidate who can make this district competitive. Trump carried the district by a 10-point margin in 2016. The race is rated a "lean Republican" contest by the political handicapping outlet Inside Elections.
Abby Finkenauer
Iowa has never sent a Democratic woman to the U.S. House, but that could change in 2018, after Democrats nominated Abby Finkenauer in the state's 1st District.
If elected, Finkenauer would be the youngest woman in Congress, as she'd be just 29 when the new Congress is sworn in come January. First, she'd have to oust GOP Rep. Rod Blum in this district that swung toward Trump in 2016.
The race is rated a "toss-up" by Inside Elections.
Cindy Axne
Axne won a commanding primary victory in Iowa's 3rd District over two male candidates, including Pete D'Alessandro, who had the backing of Sen. Bernie Sanders. Axne will go on to face Republican Rep. David Young in a competitive seat rated a "likely Republican" contest by Inside Elections.
Katie Hill
California didn't feature many women candidates, but Katie Hill, a nonprofit executive, appears to be headed to the general election to face off with vulnerable GOP Rep. Steve Knight in California's 25th District.
Hillary Clinton carried the district by a 7-point margin in 2016, making the seat a top Democratic pick-up opportunity. The race is rated "tilt Republican" by Inside Elections.