Mic to launch correspondent-led newsmagazine show on Facebook Watch: Mic Dispatch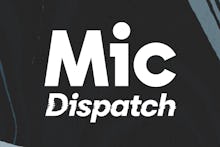 Drawing from the distinct correspondent reporting of the Mic newsroom, each episode goes deep on the topics of the day
Today Mic announces Mic Dispatch, a new, correspondent-led, twice-weekly newsmagazine program airing on Facebook Watch. In each episode, Mic's award-winning correspondents will introduce viewers to individuals — the underrepresented, the problem-solvers, the provocateurs — whose stories reveal the humanity that lies beyond the headlines.
The show will air twice weekly and include two field-reported dispatches, five to six minutes each, with episodes rounding out around 12 minutes. Using Mic's unique editorial style of weaving interviews with historical perspectives and award-winning, in-the-field reporting, the storytelling in each piece will be thoughtful, thought-provoking and riveting.
"With our new show, Mic's correspondents will take viewers on a journey through the world as we see it: complicated, diverse and full of potential," said Cory Haik, Mic's publisher. "By emphasizing diverse points of view and showcasing subjects, perspectives and context that you won't hear anywhere else, Mic Dispatch embraces balance in its storytelling in order to build empathy and bridge the cultural divide."
Mic Dispatch is news programming for a new generation of viewers that demands a more transparent approach and personal connection to what's happening in the news. By highlighting the stories of real individuals, including changemakers looking to make an impact, Mic Dispatch will leave the audience with an urgent sense of the world, inspiring them to think more critically about the news itself and encouraging them to join the conversation.
"We've been building a strong stable of new voices who are laser-focused on the cultural and political changes that are transforming so much of our culture," said Kerry Lauerman, Mic's executive news director. "Mic Dispatch will take viewers inside those changes with vivid, original reporting."
In addition to Facebook Watch, Mic's news programming can be found prominently on Snapchat Discover (as of June 11), Twitter, Apple News, Google AMP Stories and of course, Mic.com. Mic has a forthcoming news documentary premiering on Hulu on the Fyre Festival set to be released early 2019. Further, Mic is actively developing a number of projects inspired by Mic's daily reporting. Mic reaches 40 million people per month, according to Nielsen.
Tune in here later this summer for Mic Dispatch twice-weekly episodes.