The new iPhone update will turn Apple's AirPods into pseudo-hearing aids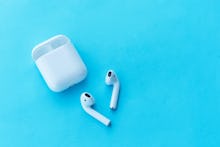 When Apple killed the headphone jack, it offered AirPods as a convenient, wireless alternative to traditional headphones. Now the wireless earbuds are getting a new feature.
According to TechCrunch, Apple's next operating system, iOS 12, will allow audio detected by the iPhone's microphone to be passed through to the AirPods in real time. Many dedicated devices already do this, like the Starkey Halo, the ReSound Cala and 68 others that support the Made for iPhone hearing aid standard.
Though, technically speaking, AirPods still won't be hearing aids. Instead, they will join a class of gadgets known as personal sound amplification products. PSAPs don't address all facets of hearing loss, but they are able to amplify the sounds around the user. For example, iPhone users can set their device on the table in front of them while at a bar or in a meeting and, with their AirPods in, hear more clearly.
Apple first added support for hearing aid-like devices back in 2013 with the first iPhone-certified hearing device arriving in 2014. The AirPods being a first-party solution to hearing help offers tighter integration with the phone's operating system, allowing for features like the new widget in Control Center.
PSAPs aren't full-on hearing aids, but they have their advantages. In addition to being available over-the-counter, the fact that they connect to your phone allow for additional features like taking calls and listening to music. When it comes to helping those with hearing loss, many admit their usefulness. David Grissam, a 911 dispatcher who's been legally deaf since the age of six, wouldn't be able to do his job without his Cochlear Baha 5, a PSAP implanted in his skull, CNET reports. "I'm able to hear more than others in the room because of that direct link," said Grissam about the implant.
There are some notable downsides of PSAPs too. Neil DiSarno, an audiologist with the American Speech-Language-Hearing Association, told the Wall Street Journal that hearing aids are designed to treat the specific type of hearing loss a person is diagnosed with while PSAPs are a simple increase in volume. And as Consumer Reports points out, all ambient sounds are amplified, even that loud emergency vehicle going by. Apple does offer volume controls for hearing devices in their hearing aid support page, whether PSAP users can access the volume slider in time before the ambulance passes by is another story.
While hearing aids continue to be a better solution, AirPods' new feature may prove useful in a pinch. The Live Listen option helps justify the AirPods' relatively high $159 price tag for people who are hard of hearing or those who just want to spy on folks in the other room.