Trump considering dozens of new pardons, including Alice Marie Johnson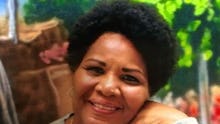 President Donald Trump is "strongly considering" pardoning Alice Marie Johnson, a 63-year-old first-time nonviolent drug offender who is serving a life sentence, the Washington Post reported.
Reality star and business mogul Kim Kardashian West has been working to help Johnson receive a pardon after first seeing her story in a Mic video. Kardashian West traveled to the White House last week to convince Trump to grant clemency to Johnson. She told Mic that during their meeting Trump appeared open to the idea.
"I think that he really spent the time to listen to our case that we were making for Alice," Kardashian West told Mic in an exclusive interview after her meeting with Trump. "He really understood, and I am very hopeful that this will turn out really positively."
The Post reported Trump has become "fixated" with his pardon power and expressed interest in pardoning Johnson. Paperwork is being drawn up for the pardon, CNN reported Tuesday, but Trump is being dissuaded from issuing it by chief of staff John Kelly.
According to CNN, Trump is considering dozens of new pardons aside from Johnson. Last week, he pardoned conservative filmmaker Dinesh D'Souza, who pleaded guilty in 2014 to willfully violating campaign finance law.
Trump is also reportedly mulling whether to pardon Martha Stewart and whether to commute the sentence of former Illinois Gov. Rod Blagojevich, who is serving a 14-year sentence for trying to sell former President Barack Obama's Senate seat after Obama won the presidency in 2008. Both Stewart and Blagojevich appeared on the president's reality competition series, The Apprentice.