A large percentage of LGBT people rely on food stamps. If Trump's bill passes, more will go hungry.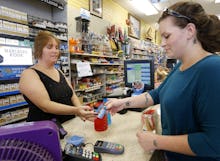 Editor's note: What will the future hold for LGBTQ rights and representation? With this year's Beyond Pride series, Mic looks forward to see how the radical changes in recent years will continue to transform our culture in the worlds of politics, business, entertainment and more. You can receive all these stories in your inbox by signing up here.
LGBT people are disproportionately food insecure — meaning a larger percentage of this group doesn't have enough money to feed their family or themselves, relative to the general population. Research from a 2016 report by the Williams Institute found that 27% of LGBT adults — or 2.2 million people — went through a period of food insecurity that year, while a much smaller 17% of non-LGBT adults experienced the same.
The report also revealed that more than one in four LGB adults participated in the Supplemental Nutrition Assistance Program, which is still colloquially known as "food stamps." The program is often misrepresented as giving handouts to freeloaders, and it's one that President Donald Trump has alluded to as being rife with fraud and laziness. In the Trump administration's 2018 Farm Bill proposal, which has yet to successfully pass, LGBT people are even further disadvantaged.
How Trump's farm bill hurts LGBT people
In regards to SNAP, the new bill would require tighter work requirements for those who receive assistance from the program. More specifically, "it would institute a policy that would require able-bodied adults under the age of 60 without young children to prove monthly that they are working or participating in a work program for 20 total hours each week in order to qualify for assistance, with a month's buffer between losing a job and sanctions," the Atlantic reported.
"People at odds are going to do what they need to do to feed themselves — eating is a part of survival." — Tyrone Hanley, NCLR
Expanding work requirements under SNAP doesn't adequately help people seek jobs, nor does it address the systemic reasons why LGBTQ people have trouble getting work in the first place, Tyrone Hanley, policy counsel at the National Center for Lesbian Rights said in a phone interview. "Employment discrimination is a significant factor that directly contributes to LGBTQ poverty and unemployment rates," a group of 56 queer and allied organizations, including NCLR, wrote in a letter to Congress opposing the Farm Bill. "Over half of the U.S. population lives in a state without explicit nondiscrimination laws prohibiting employment discrimination based on sexual orientation and gender identity."
These work requirements would increase the likelihood that more LGBT people will be food insecure, Hanley said. Even more, "there's no question that by limiting the number of people that can access food assistance, more people are going to seek money through the underground economy," Hanley said, explaining that criminalized work in either the drug trade and the sex trade is more likely to be sought out.
"People at odds are going to do what they need to do to feed themselves — eating is a part of survival," he continued. In interviews conducted in New York City with LGBTQ youth, the Urban Institute found that "almost all of those who engaged in survival sex did so in order to make ends meet," according to a report published by the Social Justice Sexuality Project.
"SNAP, for a lot of people, is the difference between literally starving and not starving," Meghan Maury, policy director at The National LGBTQ Task Force, said over the phone. "Putting work requirements [onto SNAP] is shameful to me. I can't say it another way — I know what it's like to be hungry. Everyone should have access to the food they need to function."
LGBT people are, of course, not the only ones who will be hurt by the proposed bill. Virtually any marginalized group that is disproportionately affected by poverty will be put at a greater disadvantage with the work requirements. LGBT poverty and hunger issues are not often discussed in mainstream media, however, because of "positive stereotypes" that lead people to assume LGBT communities are well off, despite the data that shows otherwise, Hanley said.
"Media portrayals like 'Will and Grace' lead the public to believe that all gay people are white, wealthy and doing just fine." — Meghan Maury
In reality, LGBT people, particularly women and people of color, face poverty at significantly higher degrees than their non-LGBT counterparts. "I think there's a myth of gay affluence which still persists," Maury said. "Media portrayals like Will and Grace lead the public to believe that all gay people are white, wealthy and doing just fine, and what we're fighting for is cake at our wedding and not basic human rights and human dignity."