Mic Daily: Trump grants clemency to Alice Marie Johnson, Democrat women dominate primaries and more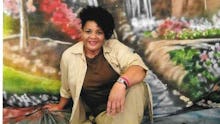 Welcome to Mic Daily: Mic's short, smart email newsletter that cuts through the noise and lands in your inbox every weekday. We carefully curate each edition to send you a cross-section of our most impactful, vital, touching stories of the day.
President Donald Trump grants clemency to Alice Johnson after Kim Kardashian West involvement
President Donald Trump granted clemency on Wednesday to Alice Marie Johnson, a first-time nonviolent drug offender who was given a life sentence without parole, Mic has learned.
The 63-year-old great-grandmother — whose case has been spotlighted recently by Kim Kardashian West and Mic's Opinion desk — will be released from federal prison in Aliceville, Alabama, where she has been serving her sentence since 1996.
Democratic women are riding a primary high, while Republican women struggle
Tuesday night once again proved to be a boon for Democratic female candidates, who won primary contests in races across the country on one of the biggest primary nights of the 2018 midterms.
Yet while Democratic women cleaned up, Republican women running for office struggled in their primaries — including incumbent House Rep. Martha Roby (R-Ala.) who faced voter backlash after she refused to vote for President Donald Trump in 2016 thanks to the Access Hollywood tape in which he bragged about grabbing women "by the pussy."
Meet Casil McArthur, the trans model on a mission to redefine what a male model looks like
"Before I transitioned, I was looking up trans models and I could never find trans men," model Casil McArthur said in a recent interview with Mic. "It was like, well, is there a place for me in this industry if I transition?"
The answer to that question was, "Yes, big time." Casil McArthur is the exceedingly rare transgender male model success story. He's landed campaigns with Kenneth Cole and Milk Makeup, photoshoots for Interview and W and walked for the likes of Coach and Marc Jacobs at New York Fashion Week.
Progressive groups are launching a movement to create a public bank in New York City
Could the city best known as the home of Wall Street divest from major corporate banks and start its own public bank? That's the vision that a new network of activist groups hope see in the near future.
On Tuesday, a coalition of progressive organizations in New York City gathered in front of the New York Stock Exchange to launch a new effort to get the city to divest from Wall Street banks and create a new public bank for the public good.
How Kanye West is disrupting — and advancing — the mental health conversation in rap
The album cover of Kanye West's newest, seven-track opus, Ye, features a photo of Wyoming's mountainous landscape with squiggly lime green text scribbled over it: "I hate being bipolar. It's awesome." The phrase is lifted from an internet meme that predates the album but is also a revelation of a real-life diagnosis that he seems to have received. By placing this admission up front, it becomes the lens for what we're about hear on Ye.