Plastic straws are on their way out — these green alternatives are the best way to drink this summer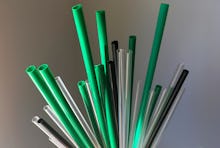 If you've noticed an absence of plastic straws at your local coffee shop, don't be surprised. Retailers around the world are nixing plastic straws in the name of sustainability. In April, Britain announced a ban on single-use plastic items — including straws — and in May, New York City Council proposed a ban, too. In the U.S. alone, 500 million of these straws are used every single day; many end up in landfills or ocean waters, where they're often ingested by marine life to the point of fatality. (Editor's note: This statistic originates from an informal survey of straw manufacturers done in 2011 by Milo Cress, who was 9 years old at the time. Cress has since told Reason that the National Restaurant Association has endorsed his estimates.)
When it comes to reducing the planet's massive plastic problem, straws are low-hanging fruit. As straw ban proponent Adrian Grenier previously told Mic, the choice to forgo a plastic drinking utensil "allows people to be involved without being overwhelmed." Indeed, even if you refuse to sip a cocktail sans straw, it's not difficult to find a slurping tool that's less harsh on the environment.
The most tangible downside to straw alternatives is cost: Disposable plastic versions tend to be cheapest. Still, a 2016 report from the World Economic Forum estimates that there will be, by weight, more plastic than fish in the ocean by 2050. If this turns out to be the case, businesses and consumers may want to ask themselves — before it's too late — what the true cost of a more environmentally sound straw is. Below, find just a handful of plastic straw alternatives that are kinder on the planet.
Paper straws
Paper straws are in such high demand, Bloomberg reports, that some manufacturers' products are on backorder. These straws are particularly hot in restaurants because they are one of the cheapest alternatives, though they still can cost more than double the price of plastic, Bloomberg reported. Paper straws do have one major downside: Many varieties quickly disintegrate or become soggy when set in liquid. Porchlight, a bar owned by the Union Square Hospitality Group, told Bloomberg that after performing a paper straw test, they found the brand Aardvark to be the most durable and, unsurprisingly, the most costly.
Bamboo straws
Made from bamboo stalks, these straws are biodegradable, meaning they'll naturally decay without causing harm to the environment. On the site Life Without Plastic, the retailer notes that the straw can be washed with soap and warm water (or a pipe cleaner) and used again and again. As many alt-straw proponents note, this option doesn't get soggy or disintegrate like paper straws do, but they do tend to cost more than the paper alternative.
Pasta straws
Maybe an Italian grandmother is rolling in her grave or maybe she's supportive of the fact that bucatini can be used as a vessel to slurp a milkshake. The U.K. restaurant Brace and Browns told BBC that pasta straws are a viable alternative to plastic, though they warn that people with gluten allergies should avoid using them. These are available for purchase through several different retailers, but one could ostensibly buy a box of large bucatini for dinner and reserve a few uncooked stalks for sipping.
Metal and other durable straw varieties
Do a quick search on Amazon and you'll easily find hundreds of reusable, washable straw options. From a silicone straw set that comes with cute little brushes for cleaning to a handsome foursome of stainless steel straws, there are seemingly endless alternatives. There's even a Kickstarter for a portable, collapsible metal straw, so you can sip your cold brew and cocktails anywhere without having to worry about spilling ice all over yourself.
July 16, 2018, 3:03 p.m.: This story has been updated.