"We're nowhere close to the end": Stigma and politics stand in way of UN goal to end AIDS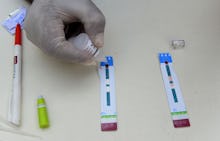 Editor's Note: What will the future hold for LGBTQ rights and representation? With this year's Beyond Pride series, Mic looks forward to seeing how the radical changes in recent years will continue to transform our culture in the worlds of politics, business, entertainment and more. You can receive all these stories in your inbox by signing up here.
In 2016, the United Nations General Assembly set an ambitious goal: End the global AIDS epidemic by 2030.
The Joint United Nations Programme on HIV/AIDS wrote in the announcement for its 90-90-90 target that the program is not just an historic obligation to the 39 million people who have died of the disease, but "it also represents a momentous opportunity to lay the foundation for a healthier, more just and equitable world for future generations."
While eradicating AIDS, which first came to the attention of the Centers for Disease Control and Prevention in 1981, is a lofty and worthy goal. There are still a number of challenges on the road to the post-AIDS world envisioned by the U.N. And it's not yet clear how feasible such a target is.
"While progress is being made, [the U.N. goal is] going to be really hard to achieve," Dr. Carlos del Rio, chair of the Hubert Department of Global Health and professor of epidemiology at the Rollins School of Public Health of Emory University, said in a phone interview.
"AIDS is not over. We're nowhere close to the end of AIDS," he added.
According to the UNAIDS proposal, wiping out the epidemic will require "the right mix of prevention, treatment and care policies." As part of that broader effort, the body in 2014 adopted the 90-90-90 goal, which called for "90 percent of children screened, 90 percent in treatment and 90 percent viral suppression by 2020."
"It was noble and important to set a goal of HIV eradication by 2030," Dr. John Bartlett, professor of medicine, global health and nursing at Duke University Medical Center, said in an email interview. But there are significant political, societal and scientific challenges to achieving those goals, he said. Some of them are longstanding — discrimination chief among them.
"Coping with stigma permeates all international efforts from public health policy down to the level of individual patient care," Bartlett said.
According to a 2017 UNAIDS report, stigma and discrimination significantly impact individuals' likelihood to seek testing and care, as well as the way they are treated in the health care system.
"Putting the world on track to ending AIDS as a public health threat by 2030 requires a persistent global effort to eliminate HIV-related stigma and discrimination alongside wider efforts to address marginalization and exclusion in health care," the report read.
According to the report, which analyzed data from a number of countries between 2011 and 2016, about 20 percent of those living with HIV reported they avoided seeking treatment out of fear of discrimination. Among those who did seek care, 1 in 4 reported having experienced some form of discrimination in the health care system — and some were outright denied treatment due to HIV status, including the denial of sexual and reproductive health services. Further, the report outlines how stigma — both in the U.S. and around the world — is "reinforced by criminal laws and other structural barriers, which in turn fuel violence, exploitation and a climate of fear that hinders efforts to provide condoms, harm reduction and other primary prevention methods at sufficient levels of coverage." Intravenous drug users, LGBTQ individuals and sex workers are particularly at risk for discrimination.
"If we don't address [stigma and discrimination]," del Rio told Mic, "we're never going to end this epidemic."
Such stigma and discrimination are only a couple of the longstanding challenges hindering the U.N.'s 2030 goal, according to Bartlett. A lack of political will and global conflicts that result in refugees and drug resistance also complicate the effort to eradicate HIV/AIDS.
Meanwhile, new challenges have arisen in the two years since the U.N. announced its ambitious goal — namely, according to Bartlett, "isolationist policies" like those of President Donald Trump may impede the effort to coordinate a global response to the epidemic. Trump has targeted programs addressing AIDS with funding cuts in his proposed budgets — cuts that could have severe ramifications for the global fight against the epidemic.
His proposed budget cuts could have resulted in "nearly 300,000 deaths and more than 1.75 million new infections each year," according to a report by the ONE campaign to end extreme poverty and preventable disease. That represents a marked departure from his predecessors, Barack Obama and George W. Bush, both of whom made the fight against HIV/AIDS one of their top priorities.
"The United States has been a global leader in HIV prevention and treatment efforts and has helped to inspire other countries to participate," Bartlett said. "Compromising these efforts will have significant consequences for the goal of HIV eradication by 2030, especially if we decrease our commitment and other donors follow the example of the United States."
The path forward
So how can we get to that post-AIDS future envisioned by the U.N.? According to del Rio, one of the biggest factors is increasing access to testing and care.
This will mean finding ways to screen and treat people who would not normally seek treatment out. "We have to think about different ways of testing," del Rio said. "I think that's the huge challenge."
It also means addressing issues of stigma and discrimination.
"Stigma continues to be a huge driver of the problems we have," del Rio added. "Obviously, addressing those issues is going to be incredibly important."
Continuing to support research will also play a major role in the international effort to address the epidemic. "A lot of incredible advances have occurred as a result of research," del Rio said. "Continuing to support research will make a huge difference."
Finally, del Rio said, addressing the broader societal issues surrounding the epidemic will be essential going forward.
"Human rights is at the core of the AIDS epidemic," del Rio said. "If we don't have more investment in the social determinants of health, we won't be able to address this epidemic the way we need to."