'RuPaul's Drag Race' season 10, episode 11: Miz Cracker exit interview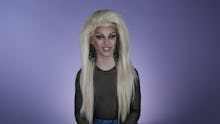 Ten down, three to go.
Ten weeks evading the bottom two, her first win under her belt the week prior and yet Thursday's episode of RuPaul's Drag Race saw the second-to-last New York queen exit the competition when Miz Cracker sashayed away.
Cracker, having middled throughout much of the season, seemed to have some momentum following last week's win with a strong first showing during the maxi-challenge, which forced the queens to present two looks: their best and brightest up against their evil twin.
While Cracker's Marie Antoinette-inspired best look earned high praise from the judges, it was among a sea of other highly on-point drag from the four other remaining queens. Her second look, which the judges felt lacked both depth and a through line, ultimately secured her bottom two fate.
Though the odds were statistically in her favor going into the competition (this was Kameron's third lip sync and season 3's Alexis Mateo and season 5's Coco Montrese are the only queens to have survived three lip syncs), Cracker was not able to out gun the lip sync assassin and, thus, was sent packing.
Mic spoke with Miz Cracker about the elimination and what's next for her drag career.
Mic: Gotta begin by asking, how are you feeling this morning?
Miz Cracker: Salam alaikum! I'm doing good. I am sitting here with my blood sister and Katelyn, my handler, and I'm ready to film the finale because I have a massive head cold!
You tweeted late last night that you "promised to gain the crown and use it to make a better place for queer people and allies." You didn't get the crown, but something tells me this mission won't go unaccomplished. How do you plan to do this?
MC: My first project is going to Uganda, where I work with Pride Uganda to do a drag pageant there. Drag and homosexuality are banned there, but goddamnit, we are going to do it on the low because drag is empowering and everyone everywhere should be able to do it.
Michelle Visage commented that you might be afraid to go deeper out of fear of being exposed. Any truth to that?
MC: I don't. I think I've been candid all season about my vulnerabilities in my past so I hope that I'll be able to show Michelle what she is missing but maybe it was in the work room and in Untucked and not on the runways in the way that she wanted.
Then Ru piled on, saying "You're too interested in trying to control how people see you. Let it all hang out, bitch." Do you feel like you over-produced yourself throughout the season?
MC: I don't think it's difficult to show who you really are in front of the cameras. I think it's difficult to show who you really are when four people in unison tell you to show them who you are. Does that make sense? With four people shouting, "Be yourself!" it's like, "Where am I?"
Let's talk about Asia's comment, that you are not a star. Pretty harsh words to hear from anyone, let alone a sister. Have you two had words about this since?
MC: Asia is a cunt. So of course it was shitty to hear. It might also be shitty for Asia to see that if she tripled her Instagram followers, she could maybe approach my popularity. There's always going to be hurt in the drag community, but Asia and I now have fun giving each other headaches.
Early in the season, it seemed like we were set up for an Aquaria vs. Cracker feud, but that never really happened. Were you worried at all that this was going to haunt you all season if you didn't nip it in the bud?
MC: I was just angry that it came up at all. As people can see, Aquaria and I have made peace with our situation. If you have questions about me, ask me. If you have questions about her, ask her. We just don't want to answer questions about each other anymore. When we see each other in person we're like, "Hello, we're New York City bitches."
Success on Drag Race is often predicated on a solid story arc for a queen, often centered around personal or professional growth. What do you think your arc was this season?
MC: My story arc was going from struggle through the middle episodes to the triumph of my makeover episode. The story is learning to find joy in drag, that was my story. The last episode doesn't really fit with that arc, and that's why I think that people think it's out of place. There's a twist in the arc and that's why people feel like it should be different than it is.
I was wondering if you could give us any update on your beautiful mother, who we were introduced to during Untucked, and who you revealed was going blind.
MC: My mother is here right now. She has a degenerative illness so she has one eye, and that eye is failing, so she's worse now then she was when I first talking about her. And that's why we treat every minute together as so important. My mother loathes television and was afraid that it would change me, and she has been near tears with joy to see that I have remained true to myself on every minute of RuPaul's Drag Race. She watches every single Mic interview, extra tidbit on VH1, she even watches Trixie Mattel's makeup tutorials to compare them to mine.
Who are you rooting for this season now that you're gone?
MC: Rooting for someone comes from your gut and my gut tells me... I don't give a shit.
Let's be shady for a second: Anyone you're not rooting for?
MC: Well, OK, we have to do promise of elimination, right? I can't root for Kameron because she eliminated me. I can't root for Aquaria because she came for me. I can't root for Asia because she came for me. So I guess that leaves the elephant in the room: Eureka.
Looking back at this experience, both the filming and the airing of the episodes, what was the high and what was the low?
MC: The high of course was seeing Cookie's face when she realized she was a woman. And the low was those episodes where I allowed myself those critiques on my runways, where those critiques were critiques on who I was and my value as a person. Boop.
Well, I just want to say justice for vocoder.
MC: Justice for goddamn vocoder. And there will be justice goddamit. It's going to be the beat of the summer. I just released my track last night.
What's next for Miz Cracker?
MC: My project is called Pride worldwide, girl. I am on a mission to push drag, queerness and queer values on the world so lookout for the gay agenda because Cracker is a smart lady and she's selling that agenda everywhere.
Check out Mic's exit interviews with week one's eliminated queen Vanessa Vanjie Mateo, week two's eliminated queen Kalorie Karbdashian Williams, week three's eliminated queen Yuhua Hamasaki, week four's eliminated queen Dusty Ray Bottoms, week five's eliminated queen Mayhem Miller, week six's eliminated queen Blair St. Clair, week seven's eliminated queen Monique Heart, week eight's eliminated queen The Vixen and week nine's eliminated queen Monét X Change.