'RuPaul's Drag Race' season 10, episode 11: With yet another star gone, energy is running low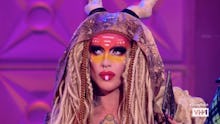 Hello, my zippy little zucchinis. Welcome to Fundamental Reading, the weekly column where we chat about RuPaul's Drag Race.
As it turns out, eliminating Drag Race's most charismatic contestants one after the next is a great way to ensure the show's momentum comes to a screeching halt. Hot off the (supremely unjust, IMO) elimination of Monét X Change in episode 10, just five queens remained at the start of episode 11: Eureka, Miz Cracker, Aquaria, Asia O'Hara and Kameron Michaels.
Folks, I'm not going to sugarcoat it: This episode was a frustrating snoozefest.
After a mini-challenge in which the remaining queens had to style pancakes to look like drag queens — we're just gonna power through that one — Ru revealed the week's main challenge. Each queen had to assemble two looks: one that embodied the best qualities of their personality and another that represented their dark side, their inner saboteur. Alongside those looks, they had to record voiceovers for their characters, a prompt that should make any Drag Race fan instantly groan with dread at the cringeworthy pain that's soon to come. When the queens have to record voiceovers in character, the scripts are almost always stilted and stiff, resulting in a final product that feels like you're watching high school art class presentations versus a primetime reality TV competition. (Those mascot-sized Andy Warhol soup cans still haunt my dreams.)
The girls started delving into their best and worst qualities in the workroom with the help of Ru, who made the rounds and had one-on-one kikis with each queen. This was a helpful, exposing exercise that allowed each competitor to verbalize their strengths and weaknesses, but I don't think the final structure of the challenge gave anyone the opportunity to express those feelings in a meaningful way. The first indication that would be the case was when the camera cut to Eureka, who was writing her script with the help of a worksheet that looked like third-grade-level essay homework.
Really, the queens had a tough job to do. It's not easy to instantly establish the character of one's own inner saboteur, bare one's soul for the judges and make the recording something entertaining to listen to. I think Aquaria and Eureka did the best at nailing down their exact insecurities, mostly because they honed in on narratives that have been present throughout the season. In Eureka's case, she discussed her insecurities about her weight and how she constantly uses her body for humor. The Vixen had criticized Eureka for doing exactly that earlier in the season. And Aquaria's whole thing is that she's icy and has a hard time expressing herself verbally, which is exactly what she conveyed onstage.
Kameron and Cracker didn't fare so well. Ru has repeatedly criticized both queens for holding back their authentic personalities, yet they failed to improve on that yet again. For Kameron, it was a matter of shyness and refusing to open up. Rather than express her insecurities, Kameron only insulted herself playfully in her script. In Cracker's case, Ru has been continually frustrated over her habit of editing herself too closely, strangling the comedy out of situations in an effort to maintain a certain persona. Instead of using the challenge as a way to expose herself on stage, Cracker more or less fell into that same trap.
Ultimately, both Kameron and Cracker landed in the bottom two and faced off for a lip sync to Vanity 6's "Nasty Girl" that'll go down in Drag Race herstory — but not for a great reason. In winning, Kameron Michaels did nearly the impossible: landing in the bottom two thrice and evading elimination. There's typically an unspoken three-strikes-you're-out rule (Monét X Change, The Vixen, Nina Bo'nina Brown, Jaidynn Diore Fierce, etc.), but Kameron bucked the trend. (Coco Montrese did the same in season five.) It's not as though Kameron blew Cracker out of the water, so I can't really understand why Ru thought it better to keep someone who's been in the bottom consistently, but here we are.
In eliminating Cracker, we said goodbye to yet another of Drag Race's most entertaining characters, ensuring next week will almost certainly be another step down for a season that started with so much promise, but has only wilted more and more in its back half. As I said, this episode was a bit of an incoherent mess, and that carried through to the final elimination.
Here's how every queen did in the runway challenge, in the order they appeared. Until next week, y'all.
Kameron Michaels/Katrina Michaels
Kameron's first outfit looked like someone who would give Aloy a quest in Horizon Zero Dawn. The judges admired the craftsmanship, but thought it looked too much like video game cosplay for a challenge that was about communicating one's inner psyche.
Her second outfit was essentially a redder and browner version of the first, with a nearly identical silhouette. The real standout for Kameron's saboteur Katrina was her face makeup, which graduated from red to yellow as it traveled down from her forehead to the middle of her nose. The judges didn't like how similar these two outfits were, both in shape and styling, and they thought her script wasn't particularly strong or insightful.
Judges' final ranking: Bottom two
Eureka/Eufilthior
Eureka's first look was a sort of Cher in a Clueless-inspired outfit, complete with a pink plaid skirt and large, Crayola-yellow wig. The judges weren't totally gagged, but they admired that she sewed the outfit herself.
Eureka's — or should I say, Eufilthior's — second outfit was a step up, with her Divine-inspired eyebrows and high updo. Though the garments themselves weren't the night's best, Eureka sold them by staying in character throughout.
Judges' final ranking: High
Miz Cracker/Miz Crumbs
Miz Cracker's first character was a Marie Antoinette-inspired, energetic goofball wearing a floor-length blue robe and a sky-high cotton-candy-pink wig.
Her second look, as Miz Crumbs, was a sort of Flintstones-style cavewoman outfit, with a crown and necklace made of bones. She capped off the look with a dark purple lip plastered in a permanent snarl. The judges didn't love this second character as much, remarking that it looked too much like a Halloween costume.
Judges final ranking: Eliminated
Aquaria/Sabatina
Aquaria's first character evoked yet another fantasy bard, with a one-armed lavender unitard, a feathered hat and mint green leggings that garnered high praise from the judges.
Her second outfit incorporated two animal prints, a 3D-printed jaw piece made to look like bone, a perfectly coiffed hairdo and a bloody apron. Ru called it one of the top 10 best runway looks in Drag Race herstory.
Judges' final ranking: Winner
Asia O'Hara/North Korea
Asia first emerged on the runway in what can only be described as some Tails from Sonic the Hedgehog-inspired cosplay, which she accessorized with a handful of orange balloons.
As her North Korea alter-ego, Asia sported a homemade, fur-trimmed black gown. Her face was covered in precise, geometric black eye makeup, and she dragged a handful of now-deflated balloons behind her. Judge Michelle Visage thought this was the strongest dark-sided look of the night.
Judges' final ranking: High