This "mother of the movement" is changing the playbook for how Democrats campaign in key districts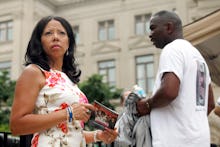 Lucy McBath never wanted to be in politics. But after her son, Jordan Davis, was shot and killed in 2012, McBath became a leading figure in the fight against gun violence and in the Movement for Black Lives.
Six years later, McBath hopes to take her fight to Washington, D.C., by running for Congress as a Democrat in her home state of Georgia.
"I never imagined that would be where I am right now," McBath said in an interview with Mic. "If I had my choice, I'd have my son back and I'd be getting to retire at 62 from Delta Airlines. ... My learning curve, learning how to be an activist, how to be an organizer, now a politician and a public servant, has never been on my radar in the way that it is now."
On Nov. 23, 2012, the 17-year-old Davis was shot and killed while sitting in an SUV at a gas station in Jacksonville, Florida, listening to music with some friends. Michael Dunn, the man who killed him, yelled at Davis and the other teens for playing their music too loud before opening fire on the car and ultimately killing Davis.
Dunn, who is white and was 46 at the time of the shooting, was convicted of first-degree murder in 2014 and sentenced to life in prison without parole.
Following her son's death, McBath became an outspoken advocate against gun violence and would go on to support Hillary Clinton's presidential campaign as one of the "Mothers of the Movement," a group of eight African-American women whose children had been killed by police or gun violence.
Now McBath is ready to lead her own campaign for public office. And her race isn't just a test for her and the movement, but also for the Democratic Party as a whole: McBath is trying to win a seat in Georgia's 6th Congressional District, where Democrats recently suffered a withering defeat.
In June 2017, Democrats placed their hopes on winning the special election in Georgia's 6th, which had been vacated by then-Secretary of Health and Human Services Tom Price. Mitt Romney won the Georgia district, which includes the northern suburbs of Atlanta, by more than 23 percentage points in the 2012 presidential election; President Donald Trump, however, just narrowly eked out a one-point victory in 2016, leading Democrats to think they could reclaim the seat.
But Democratic candidate Jon Ossoff, who ran a moderate runoff campaign focused on attacking Trump and emphasizing his fiscally conservative bona fides, failed to beat Republican candidate Karen Handel.
Now McBath is taking another shot at handing Democrats the seat.
Instead of attacking Trump and catering to moderates in the district, she's using a completely different playbook, highlighting her support for gun safety measures and expanded access to health care, both of which are issues that have deeply affected her own life.
"I'm a two-time breast cancer survivor," McBath said. "My parents were health care providers. My father was a dentist; my mother was a registered nurse, so health care has always been of utmost importance to us."
McBath, who worked for Delta as a flight attendant for more than 30 years, is running on a platform that supports the creation of a public option for health insurance.
"Think of all the people in Georgia, all the people in my district, that don't have access to good health care," she said. "When they're posed with these kinds of crises, medical crises, they've got nowhere to go. I'm very concerned about making sure that we cover as many people as possible. It's just the right thing to do."
The importance of gun safety has a similar resonance for McBath, especially after the February mass shooting at a high school in Parkland, Florida, took the lives of 14 students, many of whom were around the same age her son was when he was murdered.
"The fact that our children are having to stand up and fight for themselves because our legislators refuse to do the right thing," McBath said. "This is what I've been doing for the last five years, and Jordan was the same age as those children that were killed in Parkland, the same age [as] the children that have [died] in the streets and in their schools ... around the country.
"I just firmly believe that I've been called to be a mother to many children now," McBath continued. "I'm still mothering and parenting Jordan even in his death. A lot of the activists, the young people out in the streets, they call me Mama Lucy. Yes, I still believe I'm protecting and I'm serving their interests."
Before she can advance to the general election, McBath will first have to win a July 24 runoff against business leader Kevin Abel, who finished behind her in May's primary. She said she feels confident the district's voters are behind her.
McBath also said her decision to run a campaign based on issues that have affected herself and her community — a departure from the way Ossoff ran his failed campaign — is one she made deliberately.
"It's a conscious decision because that's my reality," McBath said. "I've been working all across the country with people from every demographic, from every kind of community, from every race and ethnicity, understanding and really working with them as to what's important for them to be able to thrive in this country. That's been my reality. That's the reason why I know that I can be very credible in Washington — because these life experiences have been my reality."
McBath's platform also represents the will of many Democratic voters across the nation. According to a Civis Analytics poll released in March, health care and guns topped the list of priorities voters wanted Democratic legislators to focus on should they regain control of the federal government in the 2020 election. McBath's focus on those issues could help mobilize the Democratic base in a district where recent attempts to appeal to moderate and swing voters failed.
McBath has another advantage as a progressive woman of color at the top of the Georgia ticket working to mobilize base voters in the Peach State.
Democrat Stacey Abrams won the Democratic nomination for Georgia's gubernatorial race in May, becoming the first black woman in the U.S. to be a major party's nominee for governor. Should she win, Abrams would be the country's first black female governor.
Abrams is the latest in a series of statewide candidates attempting to flip the notoriously conservative state from red to blue. Pundits have predicted in the last two election cycles that Georgia's changing demographics would help tilt the scales in Democrats' favor — but for eight years, Democrats have come up short in statewide Georgia races.
2018, however, is widely expected to be a Democratic wave. It'll also be the first time Georgia's increasingly diverse electorate will be reflected at the top of the ticket.
That fact isn't lost on McBath as she prepares for her own down-ballot race.
"I think minority women have decided they need a seat at the table," McBath said. "Disproportionately, minorities are far more affected by what's happening out of Washington than any other demographic. A lot of what we see driving what's happening here politically is because minorities, women in particular, are stepping up."