How 'Pose' restores pride to LGBTQ people of color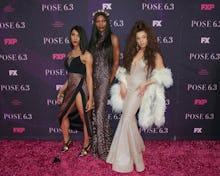 A vivid display of colors danced wildly across the room as raucous banter and the loud cracking of fans filled the large open space. Droves of attendees poured into the gothic-style church while others waited in a line that ran nearly two blocks of New York City's Harlem neighborhood.
As the music cranked, a man dripping in sequins from shoulder to ankle came out, gripping a microphone and engaging the crowd. Attendees quickly formed a "u" shape that opened at the stage. Before the show began, another man appeared and did interpretive dance to a poetry piece as the crowd watched and captured the moment on their phones. From there, the main emcee arrived and the energy kicked up. One by one, five judges came out twirling, kicking, spinning and soaking in the crowd's adoration. The show had finally began.
FX Networks was hosting its Pose ball, a kickoff bash for the show's series premiere Sunday. The event was a who's who of the New York ballroom scene, also attended by the show's cast, writers, directors and producers. Other notable attendees included author and first-time director Janet Mock; model and former club kid Amanda Lepore; award-winning writer and director Silas Howard; artist and activist Alok Vaid-Menon; actors Nico Tortorella and Marquise Vilsón; "Wonder Woman of Vogue" Leiomy Maldonado; and musician and TV writer Our Lady J.
The ballroom scene is a buzzing LGBTQ subculture in which members of houses compete for trophies and prizes. To anyone unfamiliar with the ballroom scene, it could appear to be nothing more than a talent and fashion showcase with special attention to elaborate detail. However, it's not just about becoming queen of the ball — it's about garnering the respect society often denies LGBTQ people of color. This is the world that Pose so perfectly takes its viewers. The series, created by Ryan Murphy, gives LGBTQ people of color something to look forward to, several cast members and transgender actors and actresses said in a series of interviews with Mic.
Most depictions of trans people in the media either position trans people as the butt of the joke, a victim on a crime show or a hypersexualized trope. Instead, Pose centers trans people of color from a first-person perspective and shatters traditional mainstream caricatures. It features the highest-ever number of transgender actors as series regulars in a scripted show, as well as the largest LGBTQ cast. Instead of retreading tired narratives, the series is about restoring dignity and pride to a community that's been underrepresented and overlooked for far too long.
"The ballroom scene gave me a place to belong when I had no one," Transparent actress Trace Lysette said. "I was estranged from my mother as she came to grips with my transition; I was fortunate to find a place that celebrated it." 
Sadly, Lysette's experience is a common occurrence among LGBTQ youth. Up to 1.6 million young people experience homelessness in the United States every year, the Washington Post reported in 2017. Of that number, 40% identify as LGBTQ youth, according to a study from the Williams Institute at UCLA School of Law. Many service providers cited family rejection or abuse as major contributing factors in LGBTQ youth homelessness.
Some see the house culture — the ballroom scene is made up of houses across the country — not only as a safe space for exploration and self-discovery, but also as a second chance at life.
"When you have somewhere to go on a holiday, somewhere to get a hot meal and be with family — that's love," Lysette said. "Knowing that no matter how bad it gets, you won't go homeless because they've got you. My house family gave me a sense of security in a city as harsh as New York could be. The icon Stanley Milan took me under his wing and was like a father figure I'd never had. I'm so thankful for him. I feel the same about Jack [Mizrahi]."
House mothers and fathers have often faced the same challenges as the youth they embrace and feel it's their social responsibility to protect them.
"I was 18 years old and looking to understand myself when two members of the ballroom scene stopped me from dating a guy [who] was purposely infecting people with HIV," Pose's Dominique Jackson, who stars as house mother Elektra Abundance, said.
LGBTQ youth who lack social and economic support generally engage in riskier behaviors and are at greater risk of contracting HIV or other STIs, abusing alcohol and drugs, according to the Centers for Disease Control and Prevention. The guidance of a house mother or father helps mitigate those risks.
"I came into the ballroom scene when I was 14," actor Marquise Vilsón said. "I was in and out of the system at the time and needed guidance. Having people I consider to be chosen family in my life ... was extremely important. I could have ended up in jail or dead by the age of 30 had I not had that kind of support so early on."
The ballroom scene is the last house on the block for many LGBTQ youth. It's an opportunity to reimagine what their lives could look like out from underneath the shadow of their struggles.
"The ballroom scene saved my life and gave me purpose, family, love and a creative outlet of release," Lysette said. "In life you need things to look forward to. If looking forward to the next ball or night out with my house family got me through the week, then so be it."
Some view the ballroom scene as a form of high art.
"I feel most fierce when I'm in my artistic element and I'm in a freedom zone," Pose's Hailie Sahar said. "I love to create art — that can be acting, dancing or painting. I'm an artist and to be fierce to me means to express myself to the fullest." 
For Pose star Mj Rodriguez, who plays house mother Blanca Rodriguez, the series is about liberation and resistance. "Pride to me is watching the blossoming growth of someone's liberation, simply existing and promoting the positive contributions of the legendary trans influencers who fought for us to be liberated," Rodriguez said. "I want to promote love and to bridge the gaps between communities through my art — to make sure my pump leaves an uplifting and lasting footprint, with a trace of stardust, on this world."
While leaving a legacy is significant for a community that's had to battle erasure on a day-to-day basis, many find solace in living in the moment — and sharing those moments with community.
"I don't know if it's up to me to define my legacy, but what I know I want to leave behind is the notion that my sisters are deserving and that I came to liberate," Mock, Pose writer, producer and director, said in an interview.
For Mock, it's all about staying connected and sharing authentic experiences with the transgender community. "I experience community every single day, whether that's through Instagram and Twitter, group chats with my girls and sitting on set producing or directing Pose," she said. "Trans women are part of my everyday, and without the sisterhood, I would not be here."
Thankfully, Mock and other LGBTQ people of color are committed to moving the needle of progress forward. Visibility is of utmost importance because it gives others permission to also live authentically. 
"Simply put, representation matters," Pose co-creator and co-executive producer Steven Canals said. "As a young, closeted, queer brown boy growing up in the Bronx, I never saw myself reflected in film and TV. Had I seen myself, it would have normalized the experience and I likely would have spent [fewer] years battling internalized homophobia. Media has the ability to affect how we view ourselves by affirming identity, which studies have proven increases self-esteem."
To many house members, the ballroom scene fills the void in their self-esteem that stems from underrepresentation in media and lack of access. The ballroom scene is about being seen for who you are and being celebrated for it. For Lysette and others, self-love was something that had to be learned in a world that teaches LGBTQ youth they're unlovable. They needed examples of self-love just as much as they needed love from others.
"I was most fascinated and inspired by women like Alyssa La'Perla, Tracey Africa, Onjenae Milan and Tenay Pendavis," Lysette said. "They were the regal beauties who showed me what walking with effortless confidence looked like. In a way, they showed me my worth, they showed me self-love."
Some critics initially expressed concern that because co-creator Murphy is a cisgender white man, Pose might be a cooptation of the narrative and experiences of LGBTQ people of color. However, Murphy understands that no one can tell these stories better than members of the communities themselves, several cast members said. As such, Mock, Canals, Maldonado and several other LGBTQ people of color were given creative control. That's what real allyship looks like.
"It's a privilege and a duty I don't take lightly," Canals said of the opportunity to tell his own story. "Prior to my career in TV, I worked in higher education. The first lesson I learned as a college administrator was the importance of assessing the landscape, identifying where there are gaps in resources and using my position to implement change. The overall goal with my work, starting with Pose, is to use storytelling to make such change."
Storytelling is important because it allows others to tap into their empathy. When others can see themselves in someone else, they're much more likely to appeal to their humanity. Hopefully, Canals said, Pose will underscore those similarities in a way that builds a bridge of understanding.
"I hope the audience recognizes the beauty and breadth of the trans and queer, black and brown experience," he added. "Though we are not a monolith, we want similar things: to be accepted, embraced, loved and affirmed for all of who we are."