Today in Trump's America: Audio shows Trump focused on everything but storms in FEMA meeting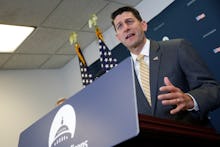 Welcome to Mic's daily read on Donald Trump's America. Want to receive this as a daily email in your inbox? Subscribe here.
Good morning from Emily Singer at Mic.
Here's what's happening in Trump's America:
• House Republicans are meeting Thursday morning to come up with a plan to address immigration reform. A group of moderate Republicans is trying to force a vote on the House floor against the wishes of GOP leadership.
About last night: In briefing on 2018 hurricane season, Trump talked about everything but storms
Trump headed to Federal Emergency Management Agency (FEMA) headquarters Wednesday to receive a briefing on how the federal government is preparing for the 2018 hurricane season.
But the meeting quickly went off the rails, according to the Washington Post, which reported Trump began bragging about his political accomplishments and his upcoming summit with North Korean leader Kim Jong Un.
It's a bad headline for Trump, who is facing renewed criticism of his administration's response to Hurricane Maria relief efforts in Puerto Rico. A Harvard University study released at the end of May found the government's official death toll estimate from the storm was off by more than 4,600. In public remarks before the closed-door briefing, Trump didn't mention the death toll, only saying he's "never seen anything like" the previous hurricane season.
"[The North Korean summit] is an interesting journey. It's called the land of the unknown — who knows? We'll maybe make a deal. Maybe not. As I say to everybody, are you going to make a deal?" Trump said, according to the Washington Post, which obtained audio of the closed-door briefing. "Maybe and maybe not. Who knows?"
Trump also bragged about his endorsement of the GOP nominee in California's gubernatorial contest.
"I endorsed him," Trump said, referring to California Republican gubernatorial nominee John Cox. "He really has been a very good candidate. I watched him last night. … We won every seat that I endorsed. The ones we didn't give, they didn't do too well, as you probably know."
And he talked about how polling is looking better for Republicans in the midterm elections.
"I don't know if that means anything. I've never heard of a generic poll. I'm not sure I believe in a generic poll when you have so many races between the Senate and the House," Trump said, according to the Washington Post. "We've never been up in a generic poll, and now we're up in two of them. … The Republican Party has … never been up in generic polls. And now it's up in two of them."
Today in Trump's America: GOP leaders try to squash immigration reform push
House Republicans will hold a closed-door meeting Thursday morning, where GOP leaders will try to stave off an immigration debate on the House floor.
A group of moderate Republicans in the House launched an effort to force a vote on immigration reform. The push came after moderates grew frustrated by their party's inaction on legislation to protect recipients of the Deferred Action for Childhood Arrivals program — which shields undocumented immigrants who were brought to the U.S. as minors from deportation.
The effort — known as a "discharge petition" — is currently three signatures shy of the threshold needed to force a vote on the House floor.
Republican leaders are trying to avert a vote on a bipartisan compromise bill supported by Democrats and the small contingent of moderate Republicans that would enrage their conservative base that holds more hard-line immigration views.
The GOP risks angering base Republican voters in the middle of the midterm election cycle, which could cause even more problems for their party at the ballot box in November. House Republicans are already facing an uphill climb, with their control of the House at stake.
A new NBC News/Wall Street Journal poll released Thursday morning found voters want Democrats to control Congress by a 10-point margin, with 50% saying they want a Democratic-controlled House, as opposed to 40% who want the House to remain under Republican control.
And the rest…
She's free: Alice Marie Johnson, who was sentenced to life in prison for a first-time, nonviolent drug offense, was released from prison Wednesday after Trump commuted her sentence. Johnson's story was brought to Trump's desk by reality star and business mogul Kim Kardashian West, who first learned about Johnson from a Mic opinion video. Kardashian West traveled to the White House last week to convince Trump to give Johnson clemency, arguing she had reformed herself in prison. While the move is being praised, there are also questions about whether Trump's own administration's policies align with his decision to release Johnson from prison. His attorney general, Jeff Sessions, reinstated mandatory minimum sentences for drug offenders, and Trump even advocated the death penalty for drug traffickers.
Scott Pruitt's troubles grow: The embattled administrator of the Environmental Protection Agency finds himself in more hot water, with two longtime aides announcing Wednesday that they're leaving the agency amid numerous inquiries into Pruitt's management of the government agency, the Washington Post reported.